'Tis the Secor to feature works by UT students
---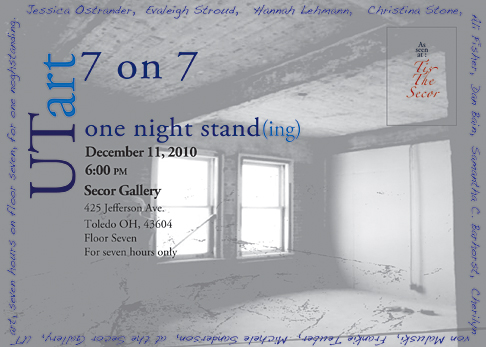 This holiday season, artists at The University of Toledo will showcase their skills at 'Tis the Secor gallery show.
The "UTart 7 on 7 One Night Stand(ing)" exhibition will display installation pieces by art students from fall semester. Students came up with the name for the event and incorporated the duration of the exhibit and its location.
The event will begin at 6 p.m. and end at midnight Saturday, Dec. 11, on the seventh floor of the Secor Building in downtown Toledo.
Barbara Miner, associate professor of art, said it is important for the students to display their work and have the opportunity to receive commentary and praise for their talents.
The students who will be featured in the gallery are fine arts seniors Hannah Lehmann, Michele Sanderson, Evaleigh Stroud; junior art majors Dan Bain and Samantha C. Barhorst; fine arts junior Ali Fisher; and Christina Stone, a senior art student with a ceramics major, and Cherilyn Von Maluski, a senior majoring in new media and photography.
"It's been pretty hectic, but I am so excited to show my work at 'Tis the Secor. It's an honor to be a part of so much talent," Von Maluski said.
Other UT art students will showcase their work, including sculptures, 2D flat work drawings and 3D pieces, at the 'Tis the Secor gallery.
For more information about the free, public exhibition, contact Miner at 419.530.8300.