Carlson Library to host 'Zen Zone' for students during finals week
---
Carlson Library will become a "Zen Zone" for busy, stressed-out students during finals week, Monday through Friday, Dec 12-16.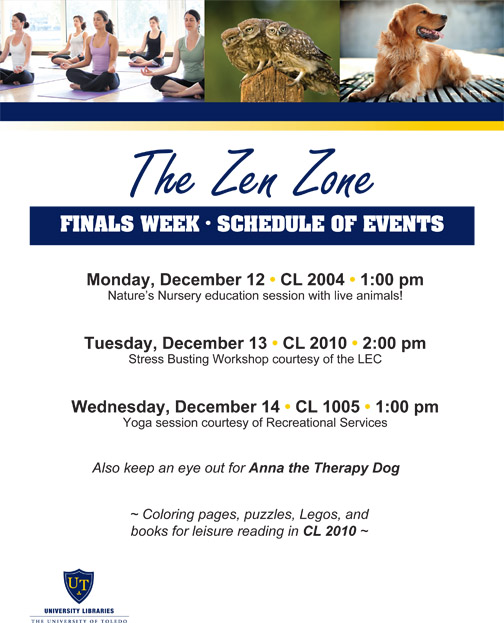 Listed by date, the following events will take place:
• Monday, Dec. 12 — Nature's Nursery demonstration at 1 p.m. in Carlson Library Room 2004;
• Tuesday, Dec. 13 — Stress-busting workshop presented by the Learning Enhancement Center at 2 p.m. in Carlson Library Room 2010; and
• Wednesday, Dec. 14 — Yoga class offered by recreational services at 1 p.m. in Carlson Library Room 1005.
Students also can pop into Carlson Library Room 2010 all week for coloring pages, puzzles, Legos and books for leisure reading.
Complimentary coffee will be served in the library between 8 and 10 p.m. through finals week.
In addition, Carlson Library has extended hours. Friday and Saturday, Dec. 9 and 10, the library will be open until midnight. And doors will be open 24 hours starting Sunday, Dec. 11, through 6 p.m. Friday, Dec. 16.
Questions about finals week events at Carlson Library can be directed to Jonathan DaSo at 419.530.2019 or jonathan.daso@utoledo.edu.