Free hotel accommodations for UT students who go to bowl game
December 11, 2015 |
UToday
By Staff
---
The University of Toledo Division of Advancement is offering free hotel accommodations to all UT students traveling to the Marmot Boca Raton Bowl to see the Rockets play the Temple Owls Tuesday, Dec. 22, at 7 p.m.
Students will receive a hotel room at the Embassy Suites by Hilton (661 N.W. 53rd St., Boca Raton, FL 33487, 561.994.8200) for the nights of Monday and Tuesday, Dec. 21 and 22.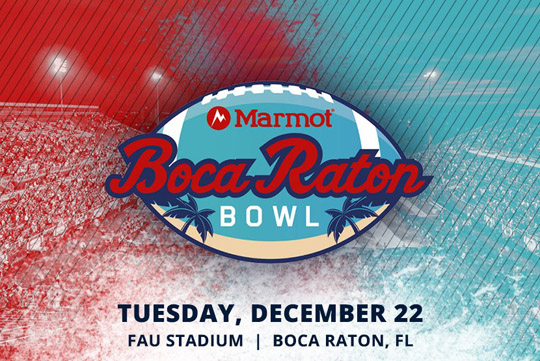 Check-in will be at 4 p.m. Monday, Dec. 21, and checkout will be at noon Wednesday, Dec. 23.
The Embassy Suites offers a made-to-order complimentary breakfast and evening reception with snacks.
Incidentals are not covered by the UT Division of Advancement and must be paid for by each individual guest.
There will be a free cookout for UT students at the Embassy Suites Monday, Dec. 21, from 4 to 5:30 p.m.
Students also are invited to attend the free pre-game party hosted by the UT Alumni Association Tuesday, Dec. 22, from 4:30 to 6:30 p.m. The party will take place outside of Florida Atlantic University Stadium. Registration is required to attend the free pre-game party.
Register here for the hotel accommodations and reservations for the Alumni Association's free pre-game party.
Registration is only available online and must be completed by midnight Wednesday, Dec. 16, to secure a room. The hotel will not offer this discount directly.
Four students are assigned to each hotel room. Those who wish to room with friends must enter their names on the registration page in the space provided. If this is not done, there is no guarantee they will room with them.
A liability waiver and student code of conduct must be completed during the registration process online. All trip participants will be required to show a valid Rocket ID upon check-in at the Embassy Suites in Boca Raton.
Students must make travel arrangements to Boca Raton, to and from the Marmot Boca Raton Bowl game, and purchase game tickets on their own.
Student game tickets are available by visiting the UT Athletic Ticket Office from 8:30 a.m. to 5 p.m. Monday through Friday. The tickets are $15 per person (limit one per person) and student guest tickets are $20 (limit four). A valid Rocket ID must be shown at time of purchase. Students will receive their tickets at time of purchase; there will be no UT student will call at the stadium.