Attending Propel Collegiate Leadership Summit 2019
---
Civic engagement involves working to make a difference in the civic life and improving the quality of life in a community, through both political and non-political methods.
To me, civic engagement means volunteering with Big Brothers Big Sisters of America to tutor students in inner-city schools, participating in community service opportunities with the Toledo women's soccer team, encouraging family members and peers to vote in local elections, coaching soccer to my community's youth, and staying active in the community by engaging with its leaders.
When I was informed of U.S. Sen. Sherrod Brown's annual Propel Collegiate Leadership Summit, I jumped at the opportunity to apply. I am so grateful to have been accepted and to have had the pleasure of attending the summit with 400 other civically engaged students from across Ohio.
The theme for this year's summit was civic engagement, and it was incredible to meet and listen to other students' experiences and opinions. It was eye-opening to realize the number of people who exemplify the definition of being civically engaged so well.
I was lucky enough to accompany six other UToledo students to the summit: Rebecca Dangler, Liam Walsh, John Young, Lexi Alvarado, Stephanie Smith and Myla Magalasi. It was humbling to be surrounded by so many awesome leaders, and I loved knowing that six others were from the same community as I am.
The summit began with a tremendous discussion between Sen. Brown and Pulitzer Prize-winning journalist Connie Schultz. They discussed their backgrounds, opinions and gave advice on how to move forward. When the floor opened for questions, there were a number of thought-provoking, intellectual and fascinating questions asked by the students, including one asked by Dangler. Schultz and Sen. Brown had very good answers to the questions and did a great job engaging everyone and meeting us at our level.
Following their discussion, there was a panel of influential leaders from northwest Ohio that included Katy Crosby, chief of staff for the city of Toledo; Richie Webber, founder of a nonprofit for recovering addicts; and Ruth Chang, founder of Midstory, a nonprofit created to share the historic and social history of northwest Ohio through different multimedia mediums. Their panel was equally as groundbreaking and set a great tone for the remainder of the summit.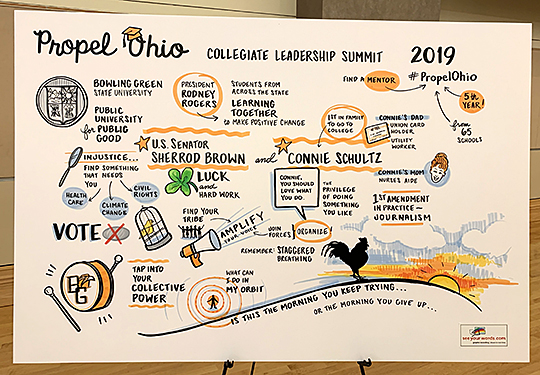 The keynote speaker for the summit, Monica Ramirez, spoke of her work with the migrant farming communities in Fremont and across the country. She told her story with a passion and articulateness that drew the audience in and truly left an impression. After the keynote presentation, Diana Patton took the stage to prompt discussion amongst the audience about what each of our individual stories looks like and what that means to us. She challenged us all to look within ourselves to find a passion, a gift, and a way to use them to change the world.
Patton's talk was a great segue into the breakout sessions that followed. Each session had a different focus. The first that I attended focused on how to advance your career and professionalism. The second, called the Engagement Fair, gave everyone an opportunity to meet and reach out to organizations and professionals that promote civic engagement. The third and final session focused on how to tell your story and how to make it mean something to others.
The speakers in each session conducted themselves with such a high level of professionalism without presenting their lives as untouchable. It was so inspirational to be able to engage with these amazing leaders. I learned a great deal about myself, my career, and how to make this world a better place.
It was an honor to have been selected to attend this summit with so many other outstanding leaders and students. I appreciate all of the speakers' willingness to dedicate their day to helping students like us succeed. They are true examples of what it looks like to be civically engaged.
My life, career aspirations and worldview were so positively affected by this experience, and I hope that many others feel the same. I also hope that future University of Toledo students go and continue to make differences in our communities.
Bauer is a pre-law sophomore majoring in political science in the College of Arts and Letters, and also a member of the soccer team.