Women & Philanthropy marks 10 years of leadership
---
Although volunteerism by women has long played a part in nonprofit organizations, a focus on the role of women in charitable giving is a relatively newer phenomenon.
In 2001, no university-based women's philanthropy programs existed in the Toledo region. At that time, Dr. Janet Krzyminski, a UT alumna, was a director of development at The University of Toledo and working on her dissertation. Her research focused on local women's viewpoints regarding the cultivation, solicitation and stewardship activities of philanthropy.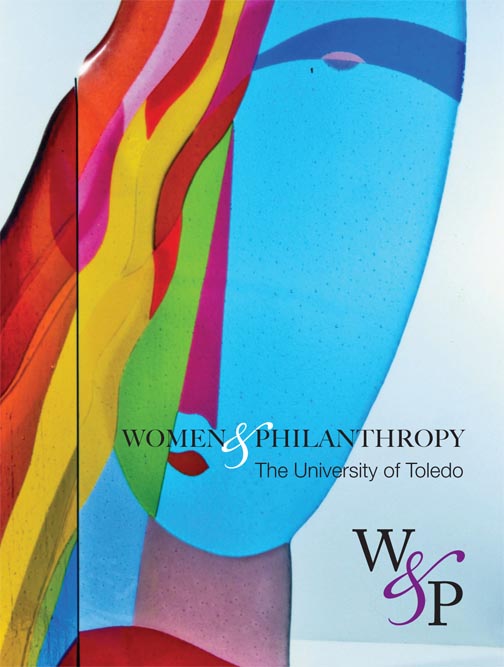 "The overarching result was that charitable organizations and universities were not paying much attention to women donors as a group. We weren't recognizing their interest or potential," she said. "This provided a platform and eventually gave legs to a new organization centered at UT."
UT's Women & Philanthropy, a collaborative effort of area women and the University's Division of Advancement, is marking its 10th year as a community of female philanthropists supporting the mission and goals of The University of Toledo.
Outgoing president Marianne Ballas, who has led the group since its inception, said the goal has been to raise the awareness of women in the community and to guide and support them in the art of giving back.
"We are committed to exposing our members to the University by promoting Women & Philanthropy's first grant in 2008 that provided the glass sculpture, 'A University Woman,' by Tom McGlauchlin. The group has provided 15 grants totaling nearly $400,000 for educational programs and taken part in grant dedications," she said. "It is inspiring to visit and experience the amazing facilities and programs that are offered right here in Toledo. We are so proud of UT, and we want to share it to enhance the community appreciation of UT's incredible importance and contributions."
The 2016 Women & Philanthropy grants were awarded to the Instrumentation Center for the construction of an interactive display titled "Living Science: The Ever-Changing Periodic Table," and an active learning center in the College of Natural Sciences and Mathematics.
The group also participates in a holiday project, including purchasing hats and mittens for at-risk children, refilling items for the UT student food bank, and distributing stuffed animals for children at UT Medical Center through the Satellites Auxiliary.
Ballas noted that members have not only made financial investments, but also personal investments. "What we have done as a group of women has created and nurtured some deep lifelong friendships. Although we are a very diverse group, we really like and appreciate each other," she said, "and we enjoy giving back."
To learn more about Women & Philanthropy, contact Chris Spengler, director of advancement relations, at chris.spengler@utoledo.edu or 419.530.4927.