Toledo native to hold book signing at Barnes & Noble
---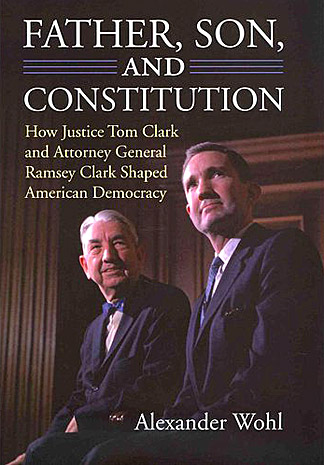 For nearly three quarters of a century, Tom and Ramsey Clark influenced presidents, policies and legal rulings in some of the most significant and controversial episodes in modern American history.
Alexander Wohl, a Toledo native, takes a close look at the father-son duo in his recent book, Father, Son and Constitution: How Justice Tom Clark and Attorney General Ramsey Clark Shaped American Democracy.
Wohl will hold a book signing and talk Sunday, Jan. 5, from 11 a.m. to 1 p.m. at the Barnes & Noble University Bookstore.
The book, published in April by University Press of Kansas, takes a look at the two men's different careers in law — Tom Clark who was on the U.S. Supreme Court for 18 years and Ramsey Clark who was attorney general under President Lyndon B. Johnson.
Although their careers sometimes overlapped, they evolved quite differently. Tom Clark enforced the relocation of Japanese Americans and was vilified by civil liberties advocates for the Cold War policies he implemented. Ramsey Clark was involved in the enforcement of civil rights laws during the 1960s.
While the book focuses on their careers, it also looks at the unique father-son relationship between the two men and offers a moving portrait of a relationship that endured many triumphs and tribulations.