Pastor passionate about Ferguson movement to speak at MLK Unity Celebration
---
"Injustice anywhere is a threat to justice everywhere." Those words spoken by Dr. Martin Luther King Jr. still resonate today.
"Justice for All" is the theme of the 2016 Dr. Martin Luther King Jr. Unity Celebration, which will take place Monday, Jan. 18, at 9 a.m. in Savage Arena.
Cori Bush, pastor of Kingdom Embassy International who is helping lead the Ferguson movement, will give the keynote address.
"We desire peace, but we wage war. We desire love, but we allow hate. We want freedom, but we won't fight for justice," Bush said. "No longer can we be afraid to use our voices to shed light on the experiences we've endured, changing the world around us. Healing lies in our stories. So now we lift our voices realizing that our hunger for equality has to be greater than that seat of comfortability."
Born and raised in the St. Louis area, Bush has been involved with the Ferguson movement as a protester, clergy member, nurse, and victim of police assault. The activist is co-director of the Truth Telling Project, a grassroots, community-centered organization established to share local voices, educate America, and support reconciliation to eliminate structural violence and systematic racism against black people in the United States.
Bush, a nonviolence 365 ambassador with the King Center, is working to establish the new Ferguson/St. Louis chapter of the Southern Christian Leadership Conference to help ensure that King's philosophy on nonviolence is present in Missouri.
"Dr. Martin Luther King Jr. said, 'True peace is not merely the absence of tension; it is the presence of justice.' To have this true peace, we must not be afraid of justice," Bush said. "To have true justice, we mustn't be afraid of truth. Speak."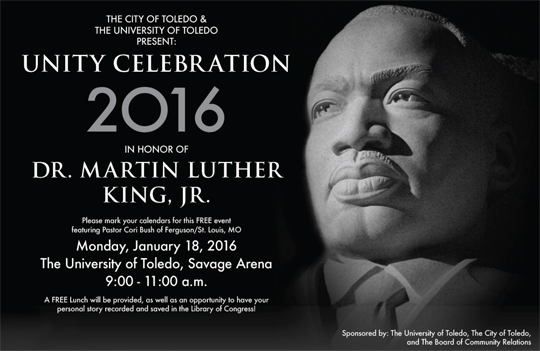 "We are very excited to hear from Pastor Cori Bush, who is a true champion of the teachings of Dr. Martin Luther King Jr.," UT President Sharon L. Gaber said. "Her passion and wisdom will bring together our community and help us join the peaceful march toward justice for all."
The 15th annual event to commemorate the life and legacy of the Nobel Peace Prize winner also will feature remarks by Gaber, Congresswoman Marcy Kaptur, Toledo Mayor Paula Hicks-Hudson and Toledo Public Schools Superintendent Romules Durant.
In addition, there will be performances by the Toledo International Youth Orchestra, Justice or Else All-Stars, the NuVision Baptist Choir, the Scott High School Marching Band, JV4, and the Carmen Miller Band.
And recipients of The University of Toledo's 2016 MLK Scholarship will be announced. UT established the scholarship in 1969 shortly after the death of the civil rights leader. Thanks to Paramount Advantage, the scholarship has been funded for the past two decades.
A free community luncheon will follow the ceremony, which is being hosted by the city of Toledo and the University.
Those who attend the event also will have an opportunity to share their personal stories to be recorded and saved in the Library of Congress.
For more information, call the UT Office of Special Events at 419.530.2200.