UT recognized again for service to veterans
---
Military Advanced Education & Transportation named The University of Toledo a top school in its 2018 Guide to Colleges & Universities research study.
Released last month, the guide measures best practices in military and veteran education.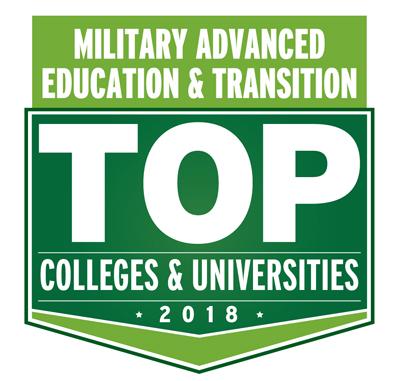 "The University of Toledo is committed to making sure all men and women who serve our great country have everything they need to succeed," Dr. Barbara Kopp Miller, dean of University College, said. "This national recognition validates our commitment to U.S. service members."
The guide presents results of a questionnaire of the military-supportive policies enacted at more than 600 institutions, including private, public, for-profit, not-for-profit, and four- and two-year colleges.
"As the first publication to promote a list evaluating best practices in military education, [Military Advanced Education & Transportation] has been improving the process every year in order to provide our men and women in uniform information that will help them make the right choices about college," Kelly Fodel, editor-in-chief of Military Advanced Education & Transportation, said.
Navy Reserve Lt. Haraz N. Ghanbari, director of military and veteran affairs, completed the survey on behalf of the University.
"I am honored to work at an institution that is consistently recognized for its dedication to serve service members and veterans," Ghanbari said. "We are here to help them transition and succeed."
UT's military-supportive culture and numerous resources available include University College's Military Service Center on Main Campus and the Lucas County Veterans Service Commission on Health Science Campus.
Ghanbari pointed out the University is responsive to requests from military men and women, noting the relocation of the veterans lounge. The Lt. Col. Thomas J. '65 Veterans Lounge in Carlson Library was dedicated in September. The lounge provides student veterans a place to relax, study, and enjoy the camaraderie they experienced while serving their country. Previously, the lounge was located in Rocket Hall.
"Our student-veterans wanted a more centrally located space," Ghanbari said. "In the academic setting in Carlson Library, they have better access to resources for research and homework, not to mention longer hours to take advantage of the lounge."
Last year, UT was nationally recognized as the first university campus in the country to simultaneously honor all service members of the armed forces and the families who lost a loved one defending the United States by dedicating both a Blue Star Memorial marker and Gold Star Memorial marker. The star markers are part of the Veterans' Plaza, located on the northwest corner of Centennial Mall on Main Campus, which recognizes the courage and commitment made by servicemen and women.
In addition, the community's annual Veterans Appreciation Breakfast and Resource Fair on Veterans Day is held at the University.