Rockets to hold third annual 'Tie One On' Event Jan. 26
---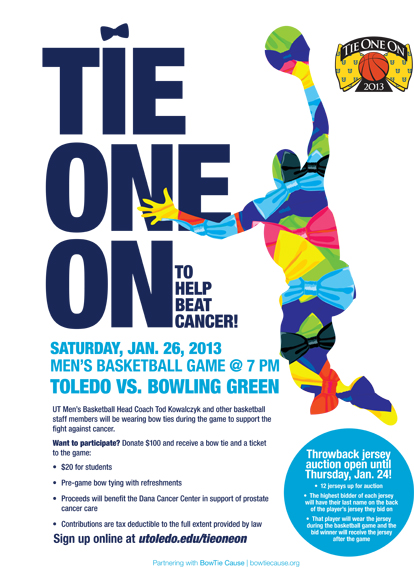 The Toledo men's basketball program will hold its third annual "Tie One On" event Saturday, Jan. 26, vs. Bowling Green at 7 p.m. in Savage Arena.
All proceeds from the event will benefit The University of Toledo's Dana Cancer Center in support of prostate cancer care.
Head Coach Tod Kowalczyk and his coaching staff will sport bow ties during the game with Falcon Head Coach Louis Orr and his coaching staff wearing orange bow ties as a show of support.
Rocket fans are invited to join the fun, too. For $100, individuals will receive a ticket to the game, a UT basketball bow tie and a commemorative photo by signing up at give2ut.utoledo.edu/tieoneonreg.asp. Students can purchase the same package at a discounted rate of $20 with a coupon, which can be obtained by calling 419.530.1273.
A new feature will be added for this year's game with the Rockets donning retro jerseys that will be auctioned off prior to the contest. Individuals can bid on the uniforms until Thursday, Jan. 24, with bidding starting at $100 and increasing in $25 increments at utoledo.edu/tieoneon. The winning bidder will have his or her name placed on the back of the jersey and receive it after the game.
In addition, Yark Automotive, local Kroger stores and the Rocket Shop are selling bow tie cutouts for the event with proceeds being donated to the cause. Yark also is making a donation to "Tie One On" for every vehicle purchased by a UT employee, student or graduate during January.