College of Pharmacy recognizes donors with naming opportunities
---
To thank the generosity of others, The University of Toledo College of Pharmacy and Pharmaceutical Sciences has named several rooms, labs and suites in the new building on the Health Science Campus.
"The naming of these spaces in our new facility reflects the exemplary philanthropy of the alumni, faculty and staff of the College of Pharmacy and Pharmaceutical Sciences as well as that of the larger pharmacy community," said Dr. Johnnie Early, dean of the college. "The commitment of these and many other donors to our ongoing mission of educating pharmacists and pharmaceutical scientists is a source of tremendous pride for the college."
The naming opportunities that follow recognize $410,536 that has been pledged to help students in the College of Pharmacy and Pharmaceutical Sciences. They are: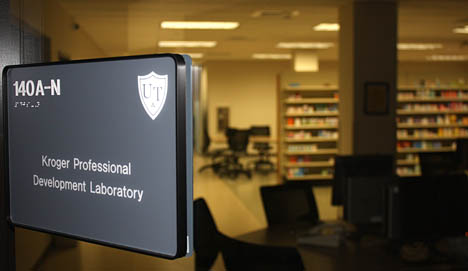 • The Kroger Pharmacy Practice Lab, which was the professional development lab. Kroger is a longtime supporter of the college and has committed to providing the lab with over-the-counter medicine over the next five years.
• Giant Eagle Student Affairs Suite, which will replace the Office of Student Affairs. Giant Eagle also will sponsor a scholarship dinner and Phood for Phinals each December.
• Dr. and Mrs. Johnnie and Diane Early Conference Room. The dean's conference room in the new College of Pharmacy is named for the current dean and his wife. He has served as dean for 10 years and together with his wife continues to support the college through scholarships for students.
• QS/1 Classroom will be equipped with new QS/1 software, and the company has agreed to provide the hardware to complement the software.
• Pharmacy Faculty and Staff Drug Information Center/Conference and Classroom. Faculty and staff helped raise more than $130,000 for the college. In recognition of their dedication, the University will rename a second floor conference and classroom in their honor.
• The Rose Marie Reuss Thomson Classroom is named for a graduate and longtime supporter of the college who has established an endowed scholarship and pledged future gifts during the next two years.