Women's golf team to sport red in February to help fight heart disease
---
The University of Toledo women's golf program will wear a red golf shirt on one day of each of its tournaments during the month of February to help raise awareness of heart disease as the No. 1 killer of women.
Head Coach Nicole Hollingsworth became involved in the fight against heart disease in women following a near-death experience last summer. She served as a guest speaker at the American Heart Association's Go Red event in Toledo in November and has helped spread the word since.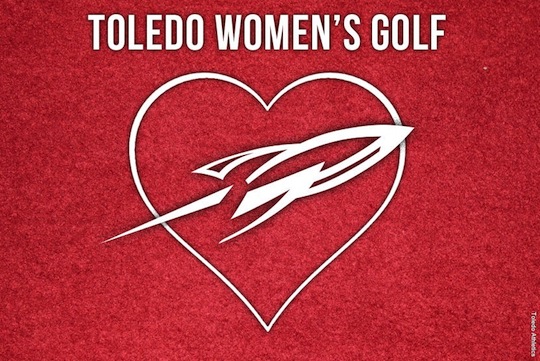 "I was so honored to be asked to speak at the Go Red event as a local survivor for the fight against heart disease," Hollingsworth said. "Since then, my life has changed. I cannot tell you how many people have approached me. I have been overwhelmed with the concern I have received, from people that I know to complete strangers.
"I see this as a personal cause, too, because I want women to know what the signs are," she said. "In my case, I had 15 seconds and I called 911. If I hadn't called 911 that day, I'm not sure I would be here today. Eighty percent of cardiovascular disease is reversible, but we have to take care of ourselves as women."
In addition to the Go Red event, Hollingsworth was featured locally by WTOL's morning news and appeared in a special segment for the evening news to discuss getting in better shape. She talked about how losing 73 pounds over the last 18 months probably saved her life in July when the heart episode happened. Hollingsworth's story also appeared on BCSN's Rocket Roundup and nationally in Golfweek magazine.
The Rockets have decided as a team to support the fight against heart disease in women.
"Our players decided unanimously that they would like this to be a cause that we try to educate people about," Hollingsworth said. "We are going to give out information to other teams at our tournaments about National Heart Month to let them know more about heart disease."
In addition to that show of support on the links, the Rockets want to make sure that people know that the National Wear Red Day — Go Red for Women is Friday, Feb. 5.
"We want to see everyone wearing red on February 5," Hollingsworth said. "Anyone who is interested can wear the same red shirt we wear on the golf course. We would like to sell as many as possible so we can make a considerable donation to two great causes."
Contact Hollingsworth at nicole.hollingsworth@utoledo.edu if you would
like to purchase a golf shirt for $40. Add $10 for shipping costs. You also can send a check as well as your shirt size (either men's or women's) to:
Nicole Hollingsworth
The University of Toledo Women's Golf
2801 W. Bancroft St. — MS 302
Toledo, OH 43606
The Rockets will make donations from the shirt sales to the American Heart Association of Northwest Ohio and The University of Toledo Medical Center Cardiovascular Research.