Outstanding Teacher, Adviser Award nominations due Feb. 18
---
Do you know an outstanding teacher or adviser at The University of Toledo?
The deadline to nominate someone for the 2018 Outstanding Teacher Award and the 2018 Outstanding Adviser Award is 11:59 p.m. Sunday, Feb 18.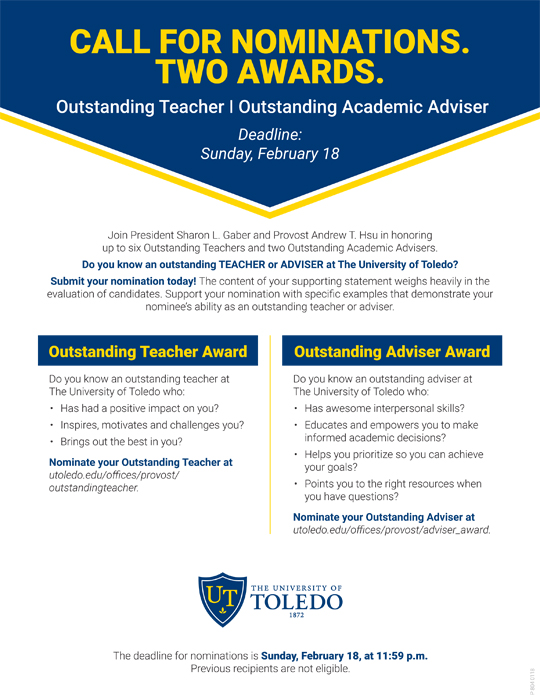 The Outstanding Teacher Award recognizes outstanding UT faculty members who have made a positive impact by inspiring, motivating and challenging their students.
A maximum of six full-time UT faculty members will receive the award. Each award consists of a $1,500 cash stipend and a certificate of recognition.
All full-time faculty at the University are eligible for the award, with the exception of past recipients.
Winners will be selected by the Outstanding Teacher Committee based on an evaluation of nominations submitted by students, faculty and alumni.
The Outstanding Adviser Award is for academic advisers who have gone above and beyond to help empower their students.
Nominees should demonstrate strong interpersonal skills; educate and empower students to make informed academic decisions; prioritize their commitments to maximize academic success; and be knowledgeable of UT policies and resources.
There will be two recipients of the Outstanding Adviser Award, each receiving $1,500.
Any full-time adviser is eligible, with the exception of previous award recipients.
Students, alumni, faculty and staff are encouraged to submit nominations.
The online nomination forms for both awards may be found at utoledo.edu/offices/provost/awards.
Past recipients of the awards are not eligible; lists of winners are online with the nomination forms.
Winners of these awards will be recognized at the UT Outstanding Awards Reception Thursday, April 19, at 5:30 p.m. in the Radisson's Mahogany Room on Health Science Campus.
At that event, the University also will recognize recipients of the Outstanding Research and Scholarship Award and the Edith Rathbun Outreach and Engagement Award, as well as Distinguished University Lecturers and Distinguished University Professors.