Sibs Saturday to commence Feb. 17
---
Whether you are a freshman or senior, give your family a fun-filled tour of campus at this year's annual Sibs Saturday, "Rocket Families Unite."
The event will take place Saturday, Feb. 17, and run from 10:30 a.m. to 10 p.m.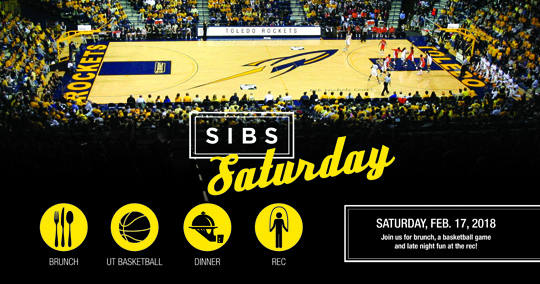 "Sibs Saturday is a University tradition where students can bring their families and siblings to campus for a day of fun." said Adam Bohland, assistant director for residential marketing and housing. "It's a time both on-campus and commuter students can show off our beautiful campus and what it means to be a Rocket."
Participants will receive a complimentary brunch at check-in, and 300 free basketball tickets will be provided for family members to see the UT women's basketball team take on Western Michigan at 2 p.m. in Savage Arena. Students and their siblings also will get to take over the Student Recreation Center for Late Night at the Rec.
In the past, about 200 siblings have taken part in the event, but this year the event has been tailored to include family members as well.
"Many siblings look to our students for guidance and mentorship," Bohland said. "They can see their brother, sister or family member and say, 'I can be a Rocket, too, some day!'" 
The event is sponsored by the Division of Student Affairs, Resident Student Association, Office of Residence Life, Office of the Dean of Students, and the Office of Student Advocacy and Support.
For more information or to register, click here.