Chinese New Year celebration scheduled for Feb. 12-14
---
The Confucius Institute invites the UT campus and Toledo community to celebrate the Chinese Spring Festival and Lantern Festival with fun and educational activities this week.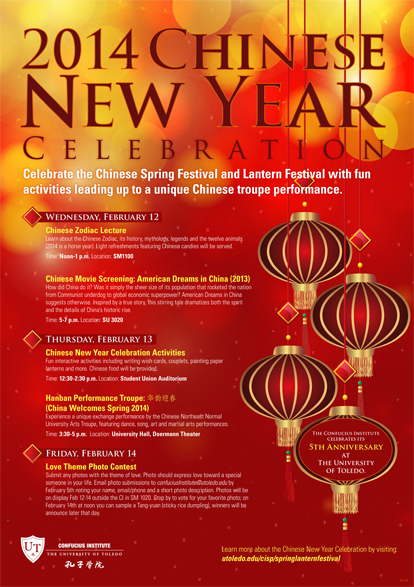 "The Chinese New Year is the longest and most important holiday celebration in the Chinese calendar. Also known as the Spring Festival, the Chinese New Year starts with the new moon on the first day of the New Year and ends on the full moon 15 days later. The 15th day of the new year is called the Lantern Festival," said Dr. Minhua Wu, assistant director of the Confucius Institute. "In China, the New Year is a time of family reunion. Family members gather at each other's homes for visits, shared meals and to renew family ties."
The highlight of the Chinese New Year celebration will be a performance by the Chinese Northeast Normal University Arts Troupe, featuring faculty and students who will bring a traditional Chinese art program to Doermann Theater Thursday, Feb. 13, at 3:30 p.m.
Wu said this performance troupe was selected by the Confucius Institute Headquarters in China. The presentation of "China Welcomes Spring 2014" is a collection of modern and traditional dances, art, music, martial arts, calligraphy and painting.
There also will be a Love Theme Photography Contest
 taking place from Wednesday through Friday, Feb. 12-14, in Snyder Memorial Building Room 1020. Stop by and vote for your favorite shot. At noon on Friday, sample a Tang-yuan (sticky rice dumpling).
Listed by date, the Chinese New Year celebration will include the following free, public activities:
Wednesday, Feb. 12
• Chinese Zodiac Lecture, noon to 1 p.m., Snyder-Memorial Building Room 1100. Learn about the Chinese zodiac, its history, mythology legends and the 12 animals. 2014 is a horse year. Light refreshments featuring Chinese candies will be served.
• Chinese Movie Screening, "American Dreams in China," 5 p.m., Student Union Room 3020. How did China do it? Was it simply the sheer size of its population that rocketed the nation from Communist underdog to global economic superpower? This 2013 film suggests otherwise. Inspired by a true story, this stirring tale dramatizes both the spirit and the details of China's historic rise.
Thursday, Feb. 13
• Chinese New Year Celebration, 12:30 to 2:30 p.m., Student Union Auditorium. Interactive activities will include writing wish cards, couplets, painting paper lanterns and more. Chinese food will be provided.
• Hanban Performance Troupe, "华韵迎春" ("China Welcomes Spring 2014"), 3:30 p.m., Doermann Theater. Experience an exchange performance by the Chinese Northeast Normal University Arts Troupe, featuring dance, song, art and martial arts.
Celebrating its fifth anniversary at The University of Toledo, the Confucius Institute serves northwest Ohio by providing education in Chinese language and culture, and supports the development of China-related scholarly research and academic programs. It also offers opportunities for cultural exchanges between China and the United States.
Learn more about the Chinese New Year Celebration here or contact Wu at 419.530.8593.