Shakespearean comedy 'Twelfth Night' up next
---
A little midsummer madness will warm up winter when the UT Department of Theatre and Film present Shakespeare's "Twelfth Night" this month.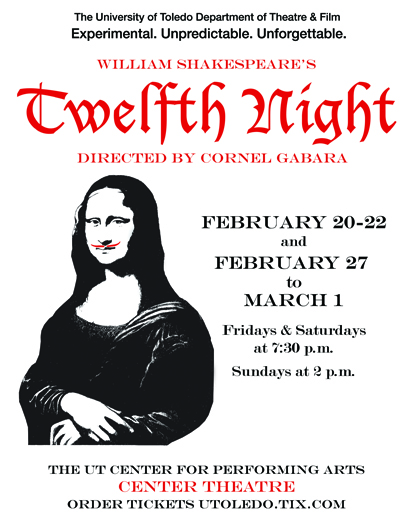 Cornel Gabara, UT associate professor of theatre, will direct the production. He has extensive experience acting in and directing the bard's work.
He said the humor of "Twelfth Night" reflects the timeless search for love and how appearances can be comically deceiving.
A shipwrecked Viola, believing herself alone in the world, dresses as a man in order to earn a living. Humorous and inevitable complications arise when she falls in love with a man who doesn't know she's a woman, and a woman who thinks she's a man falls for her.
UT students appearing in the play will be Keely-Rain Battle as Antonio, Sarah E. Bittner as Maria, Davion T. Brown as Sir Toby Belch, Jeffrey A. Burden II as Orsino, Richard A. Clever as second officer/sea captain/priest, Ian Davis as Curio, Nicholas M. Finsel as first officer, Sarena K.M. Jackson as Valentine, Andrés A. Medina as Sir Andrew Aguecheek, Olivia M. Pierce as Olivia, Christina M. Pinciotti as Viola, Khara N. Sims as Fabian/ Fabiana, Cory R. Sprinkles as Malvolio, Nolan M. Thomaswick as Sebastian and Victoria L. Zajac as Feste.
The play will open Friday, Feb. 20, and run through Sunday, Feb. 22, and from Friday through Sunday, Feb. 27-March 1, in the Center for Performing Arts Center Theatre. Friday and Saturday performances are at 7:30 p.m.; Sunday shows are at 2 p.m.
Tickets are $12 for general admission; $10 for faculty, staff, alumni and seniors; and $7 for students. They can be purchased online at utoledo.edu/boxoffice, by calling 419.530.2375, or by visiting the Center for Performing Arts Box Office.