UT set to celebrate Engineers Week
---
The University of Toledo College of Engineering will celebrate Engineers Week, Feb. 21-27.
The annual "E-week" was started by the national organization, DiscoverE, to celebrate how engineers make a difference in the world, increase public dialogue about the need for engineers, and bring engineering to life for students, educators and parents.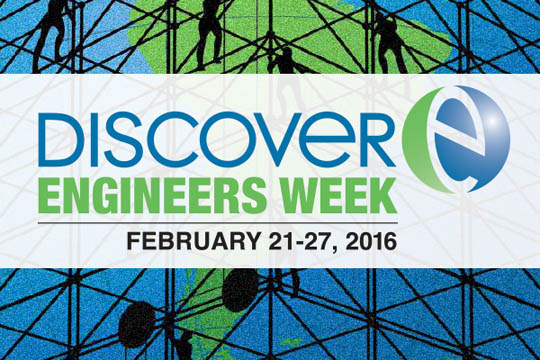 Spearheaded by the UT Engineering Council, student organizations at the College of Engineering have planned events in the spirit of E-week.
Listed by date, highlights for the week will include:
Monday, Feb. 22
• Egg-Drop Contest, 1 p.m., first floor of Nitschke Hall. Students will test their small, lightweight containers designed to protect a raw egg dropped from successive heights. This event is presented by the UT Society of Professional Engineers.
• Popsicle Stick Catapult Competition, 3 p.m., Nitschke Hall. This contest is hosted by the UT Chapter of the Society of Women Engineers.
Wednesday, Feb. 24
• The Mr. and Ms. Engineering pageant-style competition, 6:45 p.m., Nitschke Hall Auditorium. This event is sponsored by the Engineering Sorority Phi Sigma Rho.
Thursday, Feb. 25
• Life-size Jenga, 11:30 a.m., Nitschke Hall. This game is organized by the Tau Beta Pi Engineering Honors Society.
• Putt-Putt Golf, 2 p.m., Nitschke Hall. The UT Engineering Council designed the course.
Friday, Feb. 26
• Rube Goldberg competition, 9 a.m., Tom and Betsy Brady Innovation Center. Sponsored by Theta Tau, this contest will feature student teams that will construct the most creative and complex contraptions with more than 20 steps to open an umbrella.
In addition, the College of Engineering will sponsor the program Engineer for a Day Tuesday, Feb. 23. Area high school students will tour UT's engineering facilities and have lunch with College of Engineering students and professional engineers before spending the afternoon shadowing a practicing engineering professional in the community.
The College of Engineering Career Development Center also will hold the Spring 2016 Career Expo Wednesday, Feb. 24. Open to current UT engineering students and alumni, the event will have representatives from more than 120 employers.
Student leaders will represent the College of Engineering at the 2016 Engineers Week Banquet hosted by the Technical Society of Toledo Thursday, Feb. 25.
On Friday, Feb. 26, engineering freshmen will display design projects at the first Freshman Design Expo from 2:30 to 5 p.m. in the Tom and Betsy Brady Engineering Innovation Center.
For more information on the events, contact Jon Pawlecki, director of student services in the College of Engineering, at jon.pawlecki@utoledo.edu.