Application Deadline Extended for Graduate Student Fellowships, Scholarships
---
The deadline for UToledo graduate students to apply for fellowships and scholarships has been extended until Monday, March 1.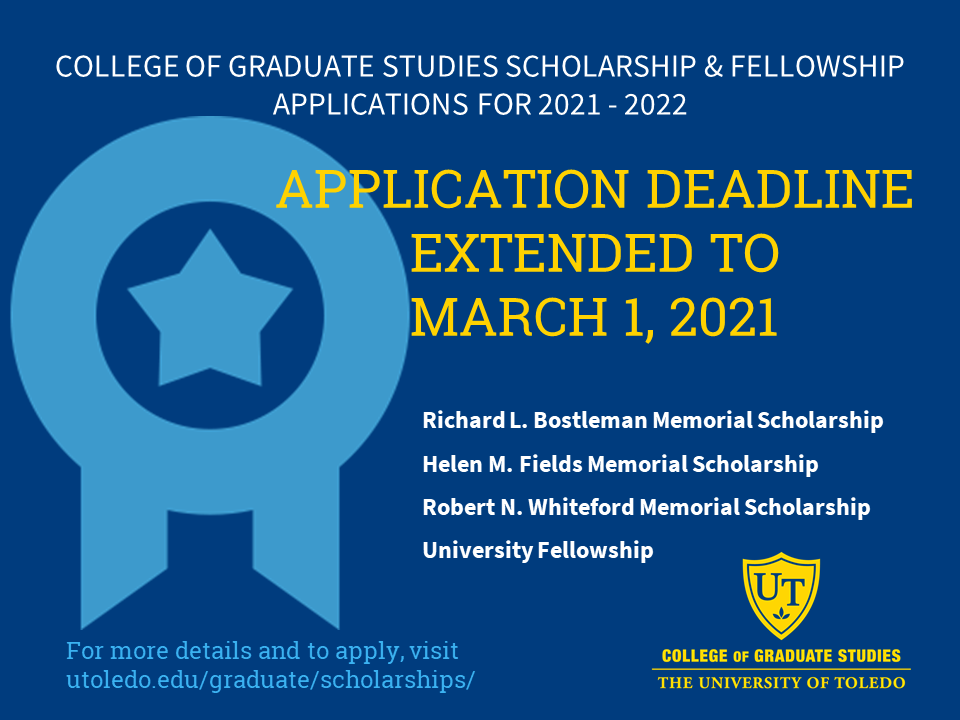 Prospective students are eligible for University Fellowships, a competitive award for new, incoming Ph.D. students who have exceptional academic records and are registering for the first time in their doctoral program for fall semester 2021. The University Fellowship is the highest award given by the College of Graduate Studies – it includes a stipend and remission of various fees – and may be renewed for support for a total of four years. J.D., Pharm.D., and M.D. students are not eligible. Acceptance by the program is required prior to award designation, and previous recipients of this award are not eligible.
The Richard L. Bostleman Memorial Scholarship is available to prospective full-time students pursuing a master's or doctoral degree who will begin fall 2021 in the College of Graduate Studies, have successfully completed an undergraduate degree at UToledo and participated in NCAA level intercollegiate athletics for a minimum of two years. This scholarship is not awarded annually.
The Helen M. Fields Memorial Achievement Award will be presented to a current graduate student with an excellent academic record in English or education.
The Robert N. Whiteford Memorial Scholarship is given to a current graduate student to assist in research for a thesis, project or dissertation and further professional development.
To learn more about these awards and others, visit the College of Graduate Studies' website or email the College of Graduate Studies at cogs@utoledo.edu.