Rockets offer $6 seats for men's, women's basketball games March 4-5
---
The University of Toledo Athletic Department announced that $6 tickets will be available for the final regular-season home men's and women's basketball games Friday and Saturday, March 4 and 5.
The Rocket men will host Eastern Michigan Friday, March 4, at 7 p.m. The $6 seats for that game will be located in the bleachers. Bleacher seating is normally reserved for UT students, but during spring break, those seats will be available for sale to the general public. Bleachers are located at floor level in either end zone.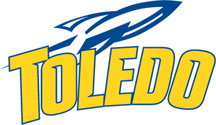 The UT women will host Ball State Saturday, March 5, at 2 p.m. All general admission tickets and bleacher seats will cost $6 for that game.
Both teams also have other home games coming up.
The men will host Central Michigan Saturday, Feb. 27. The game is the 100-year anniversary of UT men's basketball, and the celebration will feature former players from all eras returning to Savage Arena. Tip time is 7 p.m.
The UT women will host Central Michigan Wednesday, March 2, at 7 p.m.
Tickets for home games can be purchased in advance or at the door. Click here or call 419.530.GOLD (4653).