University launches new version of UT Mobile App
---
Version 2 of the UT Mobile App for iOS and Android devices is now available for free in the App and Play stores.
Unlike the old app, Version 2 allows students to check their Rocket email, customize their home screen with the shortcuts they use most, and update their parking permits.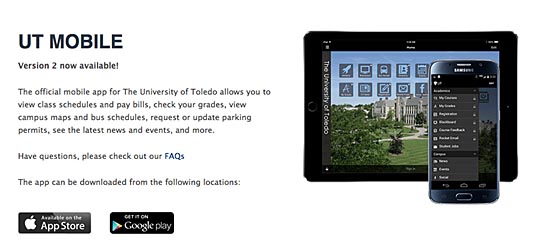 The new app also has an improved user interface and better navigation of the home screen, according to Dong Chen, assistant manager of academic application development.
Key features of UT Mobile App Version 2 include class schedules, directions to buildings, recent grades, student job openings, the ability to view and pay UT bills, bus routes and schedules, and more.
Chen encourages students, faculty, staff and the community to provide feedback for the third version of the app, which is already in the planning stages.
For more information, visit https://mobileapps.utoledo.edu.
And to submit feedback, email mobile@utoledo.edu.