'Rockets for the Cure' raises more than $19,800
---
The UT women's basketball team made another record-setting contribution to Susan G. Komen for the Cure of Northwest Ohio at its sixth annual "Rockets For the Cure" game. The Rockets raised $19,845 for breast cancer research.
That total surpassed funds raised last year: $18,010. The event steadily has grown, raising $11,393 in 2010 and $14,366 in 2011.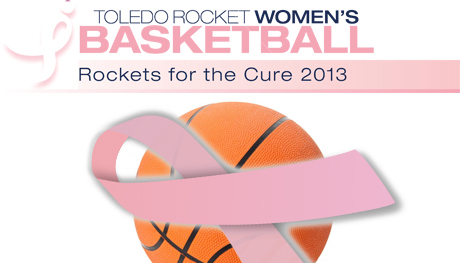 The pink Nike jerseys that UT players wore were made just for the Feb. 16 game. Six of the uniforms that were auctioned off after the contest went for more than $1,000; Naama Shafir's uniform brought in a high of $2,000.
WTOL news anchor Chrys Peterson, the guest emcee for a fifth consecutive year, announced raffle winners during timeouts and also told the crowd of 5,712, fourth largest in school history, more about Susan G. Komen for the Cure.
Most in the crowd wore pink, including many who donned "Rockets for the Cause" T-shirts.