UT to designate honorary seat for POW/MIAs in Savage Arena, honor fallen Toledo firefighters at March 1 game
---
The University of Toledo will designate a permanently unoccupied seat in Savage Arena in honor of military service personnel who were or are prisoners of war (POW) or have been declared missing in action (MIA).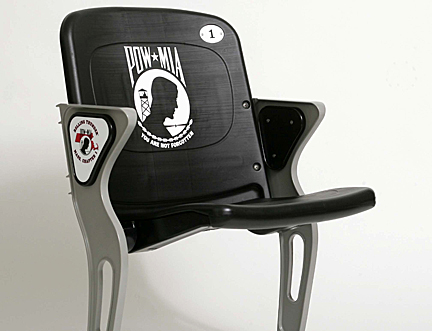 A dedication ceremony will take place during the first timeout of the men's basketball game vs. Western Michigan Saturday, March 1. Tipoff for the game is 6 p.m.
Participating in the ceremony will be Mike O'Brien, UT vice president and athletic director; Dr. Dennis Lettman, dean of the UT College of Adult and Lifelong Learning; and Petty Officer 2nd Class Matt Kelsey, an active-duty Navy corpsman and UT student.
"We are honored to be able to recognize the sacrifices made by the brave men and women in our armed forces," O'Brien said. "This seat in Savage Arena will serve as a permanent reminder of the sacrifices made by those individuals who were prisoners of war, are still prisoners of war, or who never returned home after serving their country."
The location of the seat will be floor level, across from the visitor's bench. The seat will be fixed to a mobile platform, which will allow it to be moved into position for every game.
The seat will serve as a constant reminder of the more than 83,000 unaccounted service members since World War II.
The University of Toledo previously designated a POW/MIA seat in the Glass Bowl last fall. UT was the first university in the country to dedicate an honorary seat for POW/MIAs.
In addition, UT will honor Stephen Machinski and James Dickman, the Toledo firefighters who were killed in the line of duty Jan. 26, with a moment of silence prior to the game.
The Toledo Fire & Rescue Department Honor guard will present the colors, while the Toledo Firefighters Pipes and Drum Corps will play "Amazing Grace."
The national anthem will be sung by Dan Desmond, vice president of Toledo Firefighters Local 92, and his son, Devon.