Postdoctoral research associate, grad student to talk at library March 12
---
Community building ideas will come together this week at a public library event.
Dr. Adam Schneider and Clark Ausloos will take part in the Way Public Library's second TEDx event, "(Inter)action," Saturday, March 12, from 7 to 10 p.m.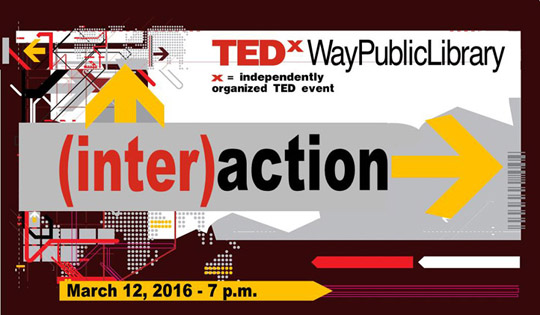 TEDx is a program of local, self-organized events bringing the community together. The Way Public Library hosts the forum as a means for sharing ideas to improve the community, said Natalie Dielman, programming specialist for the library.
"We have a great lineup of six fascinating speakers," she said. "The theme of the event is (inter)action, and we want the talks and the event to spur action as well as interaction. To that end, we've got interactive activities during the breaks, access to speakers throughout the event, and talks that exemplify doing and connecting."
Schneider, a postdoctoral research associate at UT's Ritter Astrophysical Research Center, will present his work with directly imaging extra solar planets.
"It's actually something that's very, very hard to do," he said. "We have to take a picture of a planet around another star."
For his research, Schneider worked on the Gemini Planet Imager Exoplanet Survey, which is devoted to directly imaging young planets around nearby stars.
Researchers are looking for planets comparable to those in our own solar system, but that is often difficult. In order to make complete comparisons, researchers must observe the planet for a full orbit, which could take multiple years, Schneider explained.
Through direct imaging, scientists are able to put together a picture of what a planet might look like at any point in its orbit, substantially shortening the research time, he said. Furthermore, this method allows researchers to assess the chemistry of the planet, determining which molecules, such as water and methane, can be found there.
To relate it to the theme, Schneider said he is going to talk about Citizen Science, research conducted by amateur or nonprofessional scientists to assist large-scale projects. In order to complete many larger research projects, tools like this are important for scientists to collaborate.
Ausloos, a UT master's candidate in counseling, is offering a perspective on the importance of play and make-believe in today's society.
"I explore the factors that contribute to the general decrease of play in adults as we age and some ways we can reverse this," he said. "I also mention various performing arts-based techniques that I've compiled in my experiences that can ultimately contribute to more effective communication, increase empathy with others, and increase self-empowerment."
Ausloos's passions lie in performing arts and counseling, which comprise the topic of his talk. After graduating with a bachelor of fine arts in musical theater and dance from the University of Wisconsin at Stevens Point, Ausloos performed in shows nationwide. In 2010, he opened Next Stage Studios, a private performing arts company offering music, acting and dance lessons.
By strengthening adult's creative juices, Ausloos said he believes society can be empowered. He stressed the importance of being creative and imaginative in every aspect of life: "I want the audience to see and understand why it is we lose our 'creative juices' and how we can empower ourselves and society to acknowledge these reasons and to learn ways around them."
Refreshments, T-shirts, a photo booth and the opportunity to be a part of The Rough Draft Diaries — a radio podcast from WGTE — will be available at the event.
Tickets are $25 and can be purchased here.
For more information, contact Dielman at natalie.dielman@waylibrary.info or visit tedxwaypubliclibrary.com.