Two women's basketball players earn all-conference honors
---
Toledo junior Inma Zanoguera and senior Andola Dortch have been named to the Mid-American Conference second team and the third team, respectively.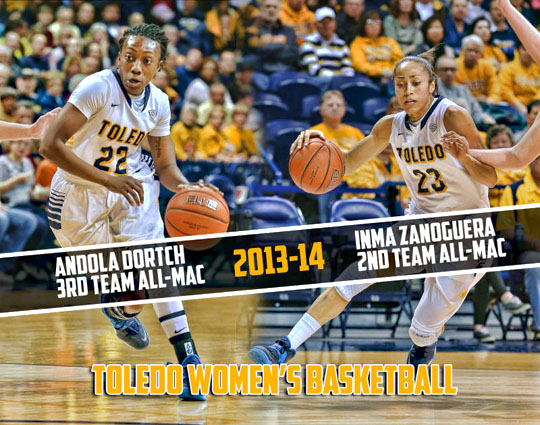 Voting was done by the conference's 12 head coaches.
A three-time All-MAC honoree, Dortch is averaging 12.4 points, 4.0 rebounds, a team-high 5.5 assists, a squad-best 0.3 blocks and a team-high 2.3 steals in 34.9 minutes per game. As of March 20, she ranked second in the league in helpers and minutes played, third in thefts and assist/turnover ratio (2.3, 160-71), and 18th in scoring.
The 2013-14 Preseason All-MAC West Division Team selection has scored in double figures on 20 occasions this year, second-highest total on the team, including a season-high 22 points vs. nationally ranked Purdue Nov. 17.
Besides being an outstanding scorer, Dortch is UT's defensive specialist. The two-time MAC Defensive Player of the Year has collected at least four steals on a squad-best seven occasions this year, including a season-high six vs. Valparaiso in the second game of the Toledo Invite Dec. 7.
In conference games, the Akron, Ohio, native tallied 13.5 points per game, 4.3 rebounds per game, a team-high 5.8 assists per game, and a squad-best 1.9 steals per game in a league-high 37.1 minutes per game.
As of March 10, Dortch sat second in UT annals in career minutes played (4,054), third in steals (285), tied for third in games played (133), fifth in assists (535), sixth in free throws attempted (549), seventh in free throws made (386), ninth in field goals attempted (1,276), and 12th in scoring (1,419).
A two-time all-conference recipient, Zanoguera currently ranks first in the league in minutes played (35.7), second in offensive boards (3.6 per game), fourth in overall rebounding (8.8 rebounds per game) and free throw percentage (85.7 percent, 84 of 98), sixth in overall field goal percentage (49.5 percent, 161 of 325), tied for eighth in defensive caroms (5.2 per game), 10th in scoring (14.3 points per game) and steals (1.7 per game) and 14th in assists (2.6 per game).
If the regular season ended March 10, Zanoguera's 85.7 percent free throw percentage would rank fifth-best in school history in a single season.
Overall in 2013-14, Zanoguera has scored in double figures on a squad-best 25 occasions, including a career-tying best 24 points on two occasions against Mississippi Valley State in the consolation round of the Glass City Tournament Nov. 10 and most recently Eastern Michigan Feb. 19.
In conference games, the third-year Rocket tallied a squad-best 14.0 points per game, a team-high 8.9 rebounds per game, 2.6 assists per game and 1.2 steals per game in 35.9 minutes per game.