UT Opera Ensemble to present 'A Midsummer Night's Dream'
---
Magic and fantasy will take center stage as The University of Toledo Opera Ensemble presents Benjamin Britten's opera of Shakespeare's "A Midsummer Night's Dream."
Performances will be held Friday through Sunday, March 23-25, in Doermann Theatre. Friday and Saturday shows will be at 7 p.m., and the Sunday performance will be at 3 p.m.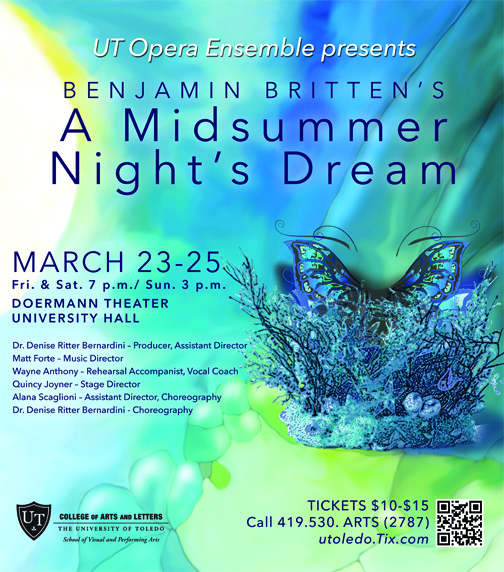 Britten's English libretto brings song to the colorful world of Shakespeare's famous play. Fairy-King Oberon orders Puck to gather a special love-potent herb to anoint the eyes of Tytania to fall in love with whomever or whatever she sees. Much to Oberon's delight, she falls in love with a donkey.
Puck also sets out to sprinkle Demetrius, hoping to get him to fall in love with Helena. But things go awry when the mischievous Puck gets it wrong. Can love ever be put aright?
The cast features Micah Graber as Oberon and UT students Paige Chapman as Tytania, Alana Miller Scaglioni as Helena, Moises Salazar as Lysander, Meridian Prall as Hermia, and Justin Bays as Demetrius.
Fairies will be played by Robin Stafford Smithberger and UT students Sydney Kraus, Mackenzie Payton and Ashley Roark. UT students Caris Croy and Ashley Venrick will be fairies at large.
Rustics will be portrayed by Jordan Loyd, Phil Smith and Mark Blowers; UT alumnus Devon Desmond; and UT students William Floss and Brandon Warren.
Dr. Denise Ritter Bernardini, assistant professor of music, is producing and helping to direct the show. Scaglioni is an assistant director of the production, and Quincy Joyner is the stage director. Wayne Anthony is the rehearsal accompanist and vocal coach.
A chamber orchestra led by Matthew Forte, UT director of orchestral studies, also will perform.
Tickets $10 to $15 are available through the Center for Performing Arts Box Office and online at utoledo.tix.com.