Women's symposium to bring WOW factor
---
As Women's History Month comes to a close, the first Women of the World (WOW) Symposium is designed to empower and inspire.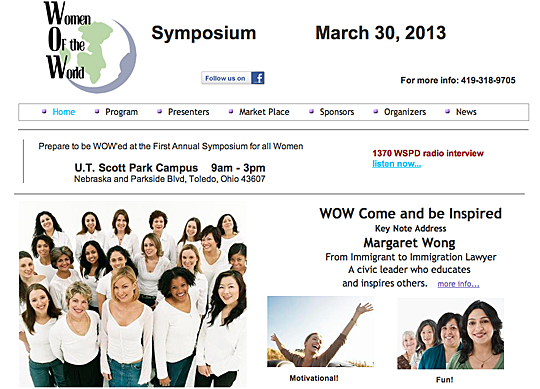 The conference will take place Saturday, March 30, from 9 a.m. to 3 p.m. in The University of Toledo's Scott Park Auditorium. Throughout the day, there will be door prizes, vendors, performances and presentations.
"Women so often don't take the time for themselves," said Emily Hardcastle, community outreach manager for the Office of Equity, Diversity and Community Engagement, and an organizer of the event. "This is meant to be a day that's just for them."
The event is free and open to all women, who will attend two individual breakout sessions presented by members of the UT and Toledo communities. They also will hear this year's keynote speaker, Margaret Wong, talk about her transition from immigrant to immigration lawyer.
Between sessions, guests will have the opportunity to learn about local women-oriented vendors, use creative space for crafts, and undergo health screenings.
There will be a guaranteed boxed lunch for those who registered before Sunday, March 24; any extra will be provided on a first-come, first-served basis.
"This conference is all about providing resources, knowledge and fellowship for women from across the community," Hardcastle said.
Last year, UT hosted a similar event called the Women's Empowerment Summit that was sponsored by the President's Lecture Series on Diversity and the Catharine S. Eberly Center for Women. Creating the WOW Symposium allowed more than 10 community women's organizations to be involved, and the event could provide more resources for attendees.
For more information or to register, click here. The symposium also has a Facebook page.