Basketball player named to AP All-America Honorable Mention squad
---
University of Toledo senior Tre'Shaun Fletcher was named to the Associated Press All-America Honorable Mention team Tuesday.
The last Rocket to be named to an All-American squad was Steve Mix, who earned a spot on the Helms Foundation All-American Team in 1969.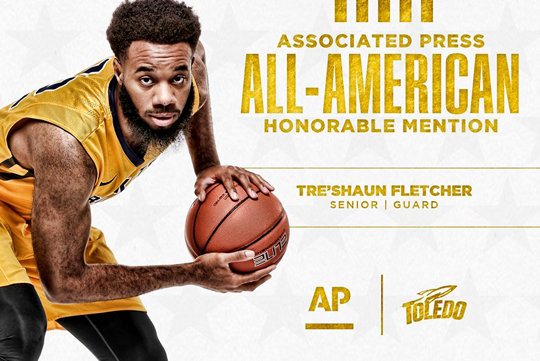 "To be recognized among the top players in the country is an incredible honor for Tre'Shaun and a tremendous reward for the hard work and contributions he made to our program," Head Coach Tod Kowalczyk said. "He was unbelievably consistent with his positive energy and leadership the entire season and, in my opinion, he's one of the best players to ever play at The University of Toledo."
Fletcher enjoyed a storybook season for the Rockets as he became UT's first Mid-American Conference Player of the Year since 1981 in addition to being a first-team All-MAC selection. He was instrumental in Toledo posting a 23-11 win-loss mark, capturing the MAC West Division title with a 13-5 league record and appearing in the MAC Championship Game.
A 6-foot-7, 205-pound guard, Fletcher ranked third in the MAC with 18.1 points per game and fourth with 8.0 rebounds per game and 4.3 assists per game, and was the only player to appear in the top 15 of all three categories. He scored a career-high 31 points vs. Marshall (Dec. 9) and paced the team with 29 double-digit scoring contests.
Fletcher registered the second triple-double in school history with 20 points, 11 rebounds and career-high 11 assists at Northern Illinois (Feb. 27), and his 12 double-doubles ranked third in the MAC.