University to host Medical Mutual Glass City Marathon
---
The University of Toledo will host the Medical Mutual Glass City Marathon Sunday, April 27, on Main Campus.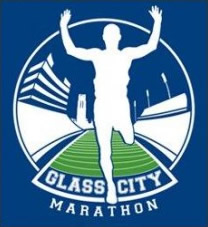 Thousands participate in a variety of events, including a marathon, half marathon, five-person marathon relay, a 5K and kid's marathon. All of the events except the kid's marathon start on UT's Main Campus and finish on the field of the Glass Bowl. The kid's marathon will be held on the track outside Savage Arena.
Organized by the Toledo Roadrunners Club, the annual event is a qualifier for the Boston Marathon. More than 7,000 participants are expected to run in the race.
"The marathon is a great community event," said Andrea Masters, assistant director and healthy living coordinator in Rocket Wellness. "We have people coming from all over the country to run this marathon, which makes the race a great opportunity for us to show the beauty of the campus."
As a result of the marathon, certain parking lots and roads will be closed on and around Main Campus.
Lot 10 will be closed beginning Friday, April 25, at 9 p.m. through Sunday, April 27, at 4 p.m. Any cars that are remaining in the lot Saturday, April 26, at 6 a.m. will be towed.
Other parking lot closures will begin at 6 a.m. Sunday, April 27, and stay closed until 1 p.m. No traffic will be allowed on or near Stadium Drive, and Lot 4 on Douglas Road will be closed.
The north entrance off Bancroft Street will only be open to the parking lots 1S, 1N and East Ramp; no through traffic will be allowed.
East Rocket Drive from Douglas Road and South Towerview Boulevard will be closed. Traffic will be allowed into exterior Lots 28 and 25.
West Towerview Boulevard and West Rocket Drive will only allow traffic into Lot 12 or other exterior lots.
People can register for the run at the Health and Fitness Expo Saturday, April 26, from 10 a.m. to 6 p.m. in Savage Arena.
For more information or to register online, visit glasscitymarathon.org.