UT to host national stuttering workshop
April 16, 2014 |
News
By Aimee Portala
---
People who stutter represent 1 percent of the population. It may seem like a small number, but it is comparable to the number of individuals who have autism and greater than the number of individuals with hearing disorders.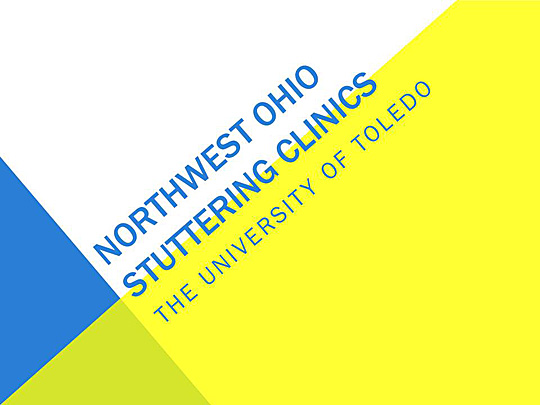 The Northwest Ohio Stuttering Clinics at The University of Toledo are hosting the FRIENDS Workshop, a conference for children who stutter, their parents and clinicians.
The one-day workshop will take place Saturday, April 26, from 9:30 a.m. to 4 p.m. in UT's Health and Human Services Building and is sponsored by FRIENDS: The National Association of Young People Who Stutter and the Stuttering Foundation.
FRIENDS is a national, nonprofit organization created to provide support and education for children and teenagers who stutter, their families and the professionals who work with them.
"There are a few local families who have been very active with FRIENDS over the past few years, and they wanted to bring this workshop to Ohio," said Dr. Rodney Gabel, UT associate professor and director of the Northwest Ohio Stuttering Clinics. "When they presented the idea to me, I was all for it."
The workshop is designed to educate attendees about stuttering while introducing them to people with similar struggles. Children who stutter will learn about ways to increase their confidence in communicating. Parents will learn ways to best support their child, while sharing experiences and concerns with other parents of children who stutter. Speech-language pathologists and students will be given more information about stuttering, current treatments, and the support available to people who stutter.
"We are looking to expand past our usual summer intensives and take on a year-round endeavor. The FRIENDS workshop is a great start to achieving that goal," Gabel said.
Facilitators and presenters will include Gabel; Dr. Derek Daniels, associate professor of communication sciences and disorders at Wayne State University; Dr. Scott Palasik, assistant professor of speech-language pathology and audiology at the University of Akron; and Lee Caggiano, co-founder and director of FRIENDS and a board recognized specialist in fluency disorders.
The Northwest Ohio Stuttering Clinics offer a broad range of therapy and assessment opportunities to individuals of all ages. It is the only clinic in northwest Ohio designed to treat individuals who stutter. Other services include traditional weekly therapy, telepractice therapy offered via teleconferencing to individuals outside of the local area, and short-term intensive programs.
Two summer intensive clinics also are offered: the Intensive Stuttering Clinic for Children and their Families from June 23 to 27, and the Intensive Stuttering Clinic for Adolescents and Adults from July 7 to 18.
"There aren't a lot of folks who are comfortable working with people who stutter," Gabel said. "We wanted to develop a clinical program with summer intensives that is unlike anything in the Midwest. There is nothing else in the Toledo area, or northwest Ohio, that is similar. We are really the only game in town."
To register for the workshop, contact FRIENDS at friends@friendswhostutter.org or 866.866.8335. For more information, visit friendswhostutter.org.
For more information about the Northwest Ohio Stuttering Clinics, to register for therapy or to participate in the summer intensive clinics, contact Gabel at rodney.gabel@utoledo.edu.
More on the Northwest Ohio Stuttering Clinics can be found at http://utole.do/stutteringclinics. Follow the clinic on twitter @NWOSC or on Facebook.