UTMC receives trophy from American Red Cross
---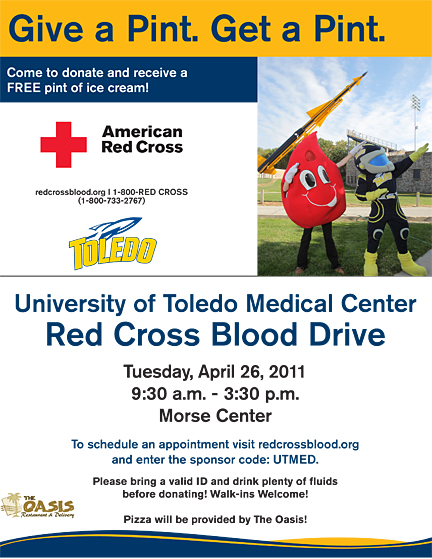 The American Red Cross held an event called "Recovery 2011" to recover the loss of blood donors from the 2010 year.
In February, the blood drive at The University of Toledo Medical Center came in above its goal. During this drive, UTMC also had the highest percentage of first-time blood donors, 19.4 percent, compared to all other hospitals in the area.
After reaching this milestone, the American Red Cross presented UTMC with the First-Time Donor Trophy.
"The trophy really belongs to the volunteers," said Cindy O'Connell, UTMC laboratory manager. "They are the ones that organize the event and do all of the work."
In 2002, UT Medical Center and the American Red Cross created a partnership program. The guidelines for the program state the hospital must hold three or more blood drives throughout the year. It was designed to encourage employees to donate and to increase awareness about the constant need for donations. Since the inception of this program, there has been a 110 percent increase in blood collections.
"One thing I would like to do is thank everyone who donates blood; it's easy, doesn't take long, and it really does save lives," O'Connell said.
UTMC will host "Give a Pint, Get a Pint" Tuesday, April 26, from 9:30 a.m. to 3:30 p.m. in the Morse Center, located on the third floor of Dowling Hall on Health Science Campus. Donors will receive a pint of ice cream.
For more information about how to become involved with future blood drives, contact O'Connell at 419.383.5251.