Pair of Juniors Named to Academic All-MAC Men's Basketball Team
---
University of Toledo juniors RayJ Dennis (Plainfield, Ill.) and JT Shumate (Newark) have been named to the 2021-22 Academic All-Mid-American Conference Men's Basketball Team, the league office announced this week.
Dennis has a 3.35 grade point average in University Studies, led the team with 33.9 mpg and ranked fourth in the MAC with a team-high 4.1 apg. Dennis also paced all MAC guards with a 50.3 field-goal percentage and tallied 12.7 ppg and 5.6 rpg. He scored 20 or more points on four or more occasions, including a career-high 22-point, eight-rebound, eight-assist outing at Northern Illinois on Feb. 12.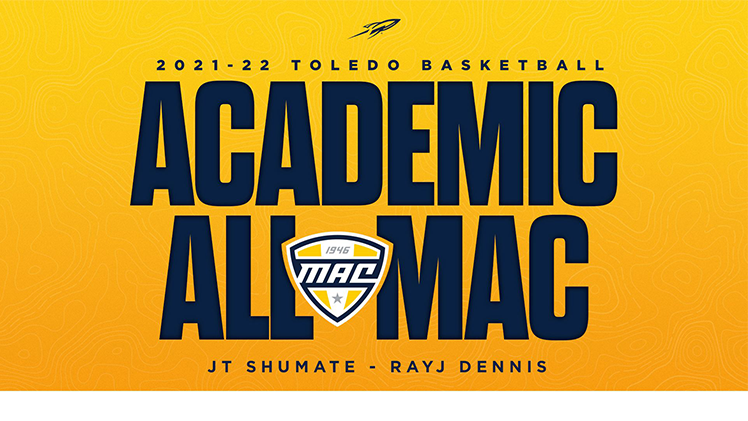 Shumate holds a 3.851 grade point average in middle childhood education and, this spring, became the second Rocket ever to receive CoSIDA First-Team Academic All-America honors. He led the MAC with a 48.2 three-point field-goal percentage (67-of-139) and the team with 6.1 rpg and 1.3 bpg. Shumate also was tied for second on the team with 15.0 ppg. He scored 20 or more points six times and tallied a season-high 29 points at Bowling Green on Jan. 15 and vs. Central Michigan on Feb. 19.
The Academic All-MAC honor is for student-athletes who have at least a 3.20 cumulative GPA and have participated in at least 50 percent of the contests in their sport.
Click to access the login or register cheese