New Megabus stop at UT makes travel easier
---
The University of Toledo community may have noticed a different type of bus on campus lately, and that's because UT is now a stop for megabus.com.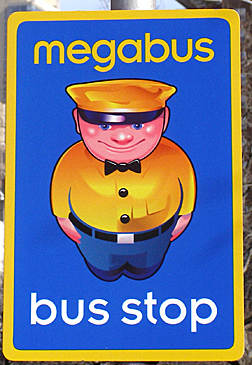 "We are happy to offer another mode of transportation to our students, faculty and staff on campus," said Diana Watts, UT transit coordinator. "Megabus offers safe, convenient and affordable transportation to our campus community."
With fares starting at $1 plus reservation fees, megabus.com is more affordable than most other bus companies. Fare prices vary based on the time seats are purchased; as more seats are reserved, prices increase.
"The further in advance you buy your ticket on megabus.com, the more of an opportunity you have for those $1 seats," said Mike Alvich, vice president of marketing and public relations for Coach USA. "But all of our fares are affordable. The highest fare you could pay would still be equal to or less than that of another bus company and also 70 percent cheaper than an airline."
Megabuses also offer guaranteed seats, free Wi-Fi, electrical outlets, no middle seats, and the inclusion of a carry-on and up to 50 pounds of luggage at no cost. Each bus also is green-certified and runs on biodiesel fuel.
From lot 23 on the Scott Park Campus, passengers can travel to Chicago, Cleveland, New York City and State College, Pa. From those cities, passengers can purchase tickets to more than 120 additional U.S. locations through approved connections found on megabus.com.
"It is a great way for students to get to and from their hometowns without having the worry of bringing their car on campus," Watts said. "It also offers opportunities for visitors who aren't affiliated with our university to see our campus and engage with our community."
For exclusive information on fares, booking dates and contests, follow @megabus on Twitter or like megabus.com on Facebook at facebook.com/megabus.com.officialpage.
To purchase tickets, visit megabus.com.