All campuses to be tobacco-free by August
---
Following a push by Student Government this spring, UT is poised to eliminate tobacco from all of its campuses before fall semester.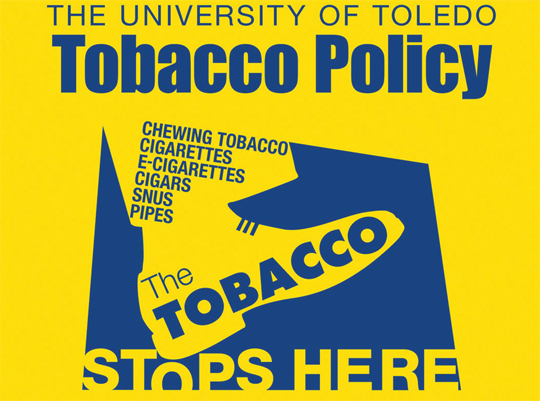 An implementation committee appointed by President Lloyd A. Jacobs is working to formalize tobacco-free policy and plan implementation throughout UT's campuses after the Board of Trustees approved a resolution to ban tobacco on Main Campus. The action will align all campuses with Health Science Campus, which has been tobacco-free since 2006.
According to Dr. Tavis Glassman, associate professor of rehabilitation services and committee co-chair, the policy is expected to be in place by Aug. 15.
"We've been working toward a tobacco-free campus since 2008," Glassman said. "In the fall of 2011, the University passed a policy restricting tobacco use to several designated areas, with the plan of ultimately implementing a tobacco-free campus. Consistent with the University's mission of improving the human condition, all campuses will finally be 100 percent tobacco-free before fall semester begins."
He said the purposes of banning tobacco are threefold: preventing tobacco use, promoting cessation, and preventing exposure to harmful secondhand smoke.
Designated huts scattered throughout Main and satellite campuses where smoking has been permitted will be removed by mid-August.
Glassman added that the committee anticipates some difficulty for those who use tobacco products and is facilitating cessation and support programs. To get started, those interested in cessation can receive information at smokefree.gov and 1.800.QUIT.NOW, the Ohio Tobacco Quit Line.
"As a campus devoted to the health of those with whom we interact, it is our responsibility to take a leadership role in the community and advocate a tobacco-free environment," said Vicki Riddick, committee co-chair and director of service excellence/senior wellness officer, University Medical Center Administration. "Study after study has shown that if you stop smoking today, you will be rewarded with quality years at the end of your life. It will also add years to the lives of those who inhale secondhand smoke."
The implementation committee members are Glassman; Jeff Newton, co-chair and public safety officer/chief of police, UT Police Department; Riddick; Doug Collins, director, grounds and off-site facilities, Facilities and Construction; Marcus Dawson, associate director, Residence Life; Dr. Stan Edwards, director, Counseling Center; Kim Goodin, information writer, University Marketing; Dr. Tom Gutteridge, senior vice provost and dean of academic administration/interim dean, College of Social Justice and Human Service; Valerie Householder, pharmacist, Main Campus Pharmacy; Clay Notestine, president, Student Government; Will Pecsok, associate director, Counseling Center; Jocelyn Szymanski, wellness coordinator, Community Wellness and Health Programs; Dr. Amy Thompson, professor, Rehabilitation Services; and Alex Wrege, assistant director, American Language Institute.