Department of Music to present summer workshops
---
The University of Toledo Department of Music is offering four music workshops in June and July.
The workshops that will be offered are:
• Janus Vocal Arts Festival — Thursday through Sunday, June 4-14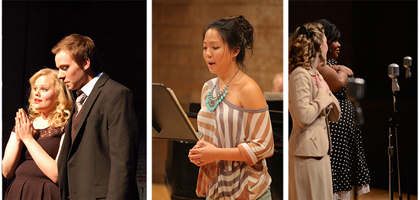 Faculty: Dr. Denise Ritter Bernardini
Ages: 12 and older
Tracks:
Adult track — Thursday through Sunday, June 4-14
Study and performance of Mozart's "The Magic Flute"
Performance dates: Friday and Saturday, June 12-13, at 7:30 p.m.
Participant fee: $550
High school track — Monday through Sunday, June 8-14
Voice training, personal coaching, concert preparation
Concert date: Sunday, June 14, at 7 p.m.
Participant fee: $200
Youth track — Wednesday through Sunday, June 10-14
Acting classes, voice lessons, music theater
Performance date: Sunday, June 14, at 7 p.m.
Participant fee: $160
Register by Friday, May 29; payment is due first day of track.
To register and learn more, click here.
• Flute Camp — Monday through Friday, June 8-12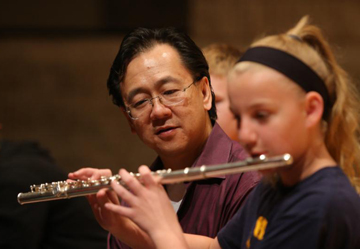 Faculty: Joel Tse, principal flute with the Toledo Symphony Orchestra and UT flute instructor, and Amy Heritage, flutist with the Toledo Symphony Orchestra and Suzuki flute instructor
Ages: Elementary school through adult
Track 1 — Suzuki book 1 and 2 and beginning band (Heritage) — $150/week (mornings-only workshop)
Track 2 — Intermediate and advanced (Tse)
— $300/week (full day) or $65 per day if attending less than five days
Special guest Robert Johnson of Flute Specialists will present a flute repair and care workshop.
Additional workshops for all participants will be offered in yoga and breathing, and music and movement, and for younger students, flute crafts and stories.
A concert performed by all students will conclude the workshop Friday, June 12.
Register by Friday, June 5; payment due Monday, June 8.
To register and learn more, click here.
• 2015 UT Summer Jazz Institute — Sunday through Wednesday, June 14-20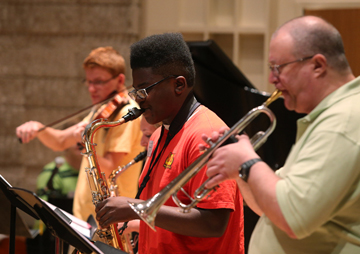 Faculty: Jay Rinsen Weik, guitar; Norm Damschroder, assistant director, bass; Gunnar Mossblad, director, saxophone; Tad Weed, piano; Dr. Olman Piedra, percussion
Ages: 12 and older
Tracks: Vocal, instrumental, teacher-training, jazz appreciation
The UT Summer Jazz Institute is the place where all levels of jazz students can discover and achieve their jazz potential through the study of jazz in one of four exceptional programs: instrumental jazz, vocal jazz, teacher training and jazz appreciation. The teacher-training track is flexible to fit the participant's time and needs. It provides enough contact hours for one to three hours of continuing education. Check with the school district for its continuing education policies and forms.
Register by Monday, June 1, or a $25 late fee will apply; payment due Friday, June 12.
To register and learn more, click here.
Summer Strings — July 14, 16, 21, 23, 26
Faculty: Cecilia Johnson, director
Ages: 18 and older
Track: Adult amateur musician
Summer Strings will meet twice weekly on Tuesday and Thursday from 7 to 9 p.m. This strings workshop (violin, viola, cello and bass) is for the adult amateur musician who is looking for a fun music experience that will keep playing skills sharp over the summer plus provide an opportunity for concert performance. Participants are asked to attend at least two of the rehearsals and the final session Sunday, July 26, which will be the concert performance at 3 p.m.
Fees: $90 (all five sessions) or $25 per session for those who cannot attend all rehearsals
Register by Friday, July 10; payment due Friday, July 10.
To register or for more information, call the Music Department at 419.530.2448 or provide contact information — phone and/or email — and indicate instrument when mailing in payment.
Please note: Participants younger than 18 must complete and have a parent or guardian sign the permission/medical consent form.
For more information, go to the UT Department of Music Summer Workshops website here.