Rockets Earn Record 3.364 Grade Point Average in Spring Semester
---
The University of Toledo student-athletes earned a combined grade point average of 3.364 in the 2022 spring semester, Vice President and Director of Athletics Bryan Blair recently announced. It is the second-highest semester GPA recorded by the Rockets, and the highest ever using a normal grading scale. It is also the seventh consecutive semester in which Toledo student-athletes have earned a semester GPA of 3.3 or higher.
Women's Swimming and Diving recorded the highest semester team GPA with a mark of 3.825, which is also the best mark ever for a Rocket team using a normal grading scale. Men's Golf (3.699), Women's Soccer (3.697) and Women's Cross Country (3.674) also were above the 3.6 mark.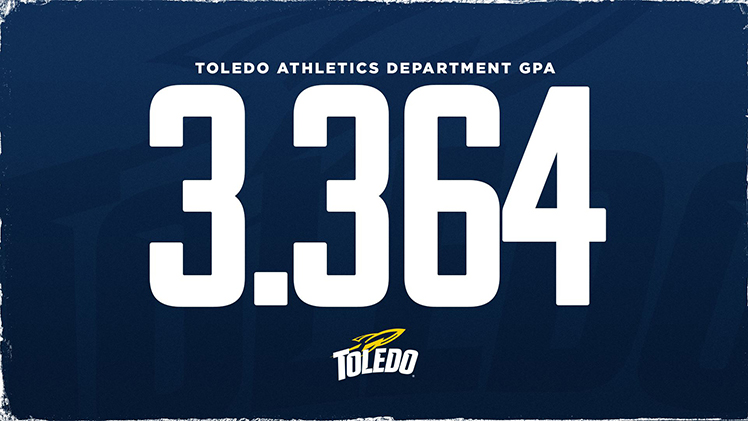 Three teams achieved their highest GPAs ever in their respective sports: Women's Swimming and Diving, Women's Basketball (3.585) and Women's Track and Field (3.564).
Other highlights from this past semester include:
•  63 student-athletes (16.2%) earned President's List honors with a perfect 4.0 GPA;
•  197 student-athletes (50.6%) earned a spot on the Dean's List by garnering at least a 3.50 GPA; and
•  280 out of 389 (72%) total student-athletes made the Honor Roll by securing a 3.00 GPA or higher.
"Congratulations to our student-athletes for another outstanding semester in the classroom," Blair said. "We place the highest value on academic success at The University of Toledo, and our student-athletes continue to live up to those expectations. I commend their hard work and dedication, as well as our Student-Athlete Academic Services (SAAS) staff and the dedicated University faculty, staff, coaches and parents who support their efforts in the classroom."
"A big congratulations to our student-athletes, who have now broken the all-time student-athlete GPA record for the fourth-straight semester," said Associate Athletic Director for Student-Athlete Academic Services Tony Belt.  "Their determination and dedication to academics is nothing short of amazing.
"A major thanks to The University of Toledo community. These record marks are a testament to what our on-campus partners do for our student-athletes on a daily basis."