UT Health Science Campus Pharmacy expands hours
---
The University of Toledo Health Science Campus Pharmacy is expanding its operating hours to provide services on Sundays.
Beginning July 1, the pharmacy located in the Medical Pavilion will be open from 10 a.m. to 4 p.m. on Sundays.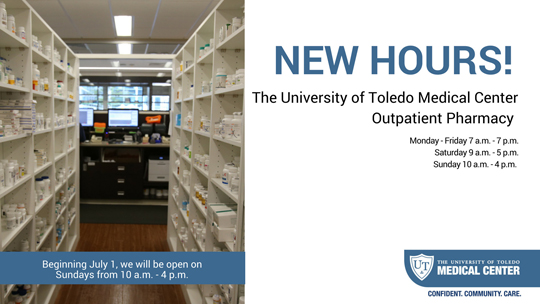 The pharmacy continues to operate from 7 a.m. to 7 p.m. Monday through Friday and from 9 a.m. to 5 p.m. on Saturdays.
The automated refill hotline also is available 24/7 at 419.383.3750.
"The pharmacy wanted to provide more access to our customers, including UT employees who enjoy lower medication copays in addition to all of the services provided by our trained and friendly pharmacy staff," Director of Pharmacy Russell Smith said. "We are available to assist you in all aspects of your pharmacy experience, including prescription medication counseling, over the-counter medication selection and counseling."
Click to access the login or register cheese