Former Toledo Women's Basketball Player Signs Pro Contract in Italy
---
Former Toledo women's basketball player Mariella Santucci has signed a professional contract to play for Passalacqua Ragusa in her home country of Italy.
Santucci becomes the eighth Rocket to play professionally overseas under three-time Mid-American Conference Coach of the Year Tricia Cullop, joining Melissa Goodall (Italy and Spain), Naama Shafir (Israel), Andola Dortch (Belarus), Inma Zanoguera (Italy), Brenae Harris (Spain), Janice Monakana (Great Britain) and most recently Jay-Ann Bravo-Harriott (Spain and Great Britain) on that list.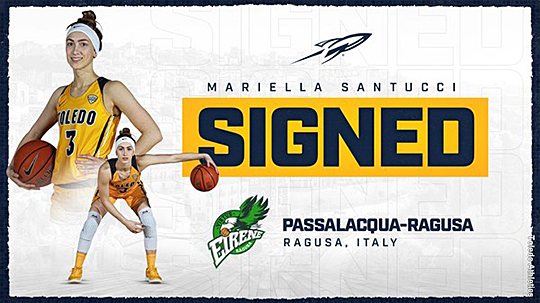 In addition, former Rockets Kaayla McIntyre, Janelle Reed-Lewis, Dortch and Harris currently play for the Toledo Threat, which is part of the Women's Professional Basketball Organization.
"Since the first day Mariella stepped on campus at Toledo, it was her goal to play professionally," Cullop said. "I'm incredibly happy to see her goal become a reality. We're so appreciative of the hard work, dedication and leadership that she brought to our program, and I now look forward to becoming a fan of Passalacqua Ragusa and cheering for her."
Passalacqua Ragusa plays in Italian-Serie A1, the premier national league for women's basketball clubs in Italy.
This past year, Santucci averaged 10.9 points, a squad-best 6.3 rebounds, a team-high 5.2 assists and a team-best 1.5 steals in 30.5 minutes per game for Toledo. The only Rocket to start every contest in 2019-20, Santucci led the Mid-American Conference in helpers (160), and she ranked second in assist/turnover ratio (1.70, 160-94), 10th in free-throw percentage (.719, 105 of 146), 12th in defensive caroms (4.77 rebounds per game, 148), and 15th in overall rebounding (194).
A 2019-20 team captain, Santucci scored in double figures on 16 occasions during her final season wearing the Midnight Blue and Gold, the third-highest total on the team, including a career-best 31 points against Miami.
A school-record three-time Academic All-MAC honoree, Santucci wrapped up her collegiate career fifth in program history in career assists (614) and minutes played (3,878), sixth in steals (202), eighth in games played (130) and 24th in points (1,103). She graduated as the only player in school annals to tally at least 1,000 points, 600 assists, 500 rebounds and 200 steals in a career.