Head softball coach named
---
Kristen Butler has been hired as the new head coach of the University softball program.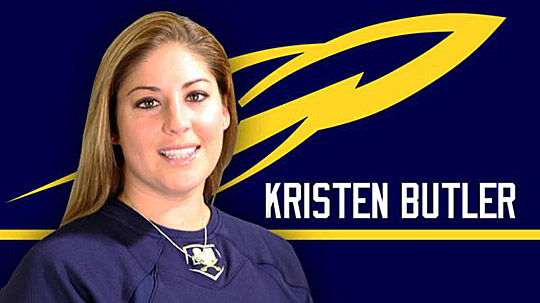 Butler comes to Toledo after spending the past two seasons as an assistant coach at Charleston Southern, where she focused primarily on pitching and catching. She joined the CSU coaching staff in 2012 after coaching at Mississippi Valley State and the University of Florida.
"I knew Toledo was a place that I could be successful," Butler said. "I know that it is a great softball area when it comes to the high school and travel ball talent, and the facilities and administration sold themselves. Ms. [Kelly] Andrews and Mr. O'Brien have been first class, and they've made me feel welcome from the get-go. I'm very excited to be a part of the organization."
"Kristen has an impressive background, both as a coach and player, and is an excellent candidate to lead the program," UT Vice President and Athletic Director Mike O'Brien said. "We look forward to seeing the softball team thrive on the field and in the classroom under her leadership."
While at Mississippi Valley State, Butler and the rest of the coaching staff were honored as the Southwestern Athletic Conference Coaching Staff of the Year after leading the Devilettes to a SWAC Championship and the NCAA Super Regionals.
A native of Orlando, Fla., Butler was a four-year starter from 2003 to 2006 at Florida, where she played catcher and third base. She earned Southeastern Conference Player of the Year following her senior campaign in which she set a new single-season home run record for the Gators. She also was named to the College Sports Information Directors Association Academic All-District team in 2006 en route to graduating cum laude with a degree in sports management.
Butler was a National Fastpitch Coaches Association Scholar Athlete all four seasons at the University of Florida and was named to the SEC All-Tournament Team in her first season with the Gators.
After graduation, Butler played four years with the Akron Racers of the National Professional Fastpitch League, where she was awarded defensive player of the year honors in 2008. Butler continued her playing career in the Japan National League with Denso Softball and set a Japanese national record with three home runs in one game. Butler has been playing with the Chicago Bandits of the National Pro Fastpitch league as a catcher and designated player since 2012.
She is working on her master of business administration degree and lives with her husband, Marcus Smith.
"I think the first thing I can bring is enthusiasm," Butler said. "I've been able to be a part of some winning programs in the past, from my alma mater as well as the two previous schools I've been at. Winning is a mindset, and the enthusiasm behind it and the excitement is going to be our number one goal here."