Alumnus/Doctoral Student Offers Musical Inspiration With New Disc
---
Jeremy Holloway, a Ph.D. candidate in the Judith Herb College of Education at The University of Toledo, has released a worship album featuring 12 original songs.
"No More Delay" became available July 4 on Amazon, iTunes, Spotify, SoundCloud and Google Play.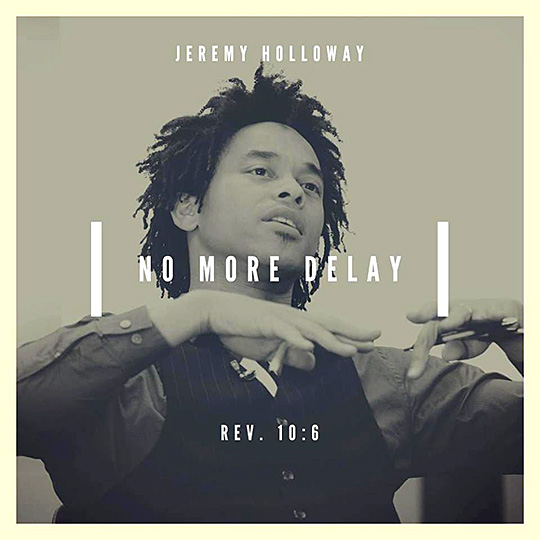 The title track was inspired by his sister, Tiffanie.
"'No More Delay' came to me after witnessing my sister's battle with diabetes at such a young age," Holloway said. "She lost the ability to walk and was in and out of the hospital for years."
He wrote, "It's at a point when you're broken, when you have nothing left/ When you're crying and can no longer see/ God tells the angels, 'Do you hear my child? That's my little baby/ Now no more delay. Send her a story of hope/ A story of goodness, a story of grace/ And let it ring for all time.'"
Holloway's sister temporarily lost her vision due to diabetes, which adds to the emotion and real strength of the lyrics.
Being moved by music — many genres of music — is something Holloway has experienced from an early age.
"When I was 17, I was into grunge and wanted to play the guitar, and I learned to play the guitar after watching Kurt Cobain in Nirvana perform on MTV," he recalled.
At age 18, Holloway became a Christian and started to play the guitar and sing in church. He volunteers on the worship team at Calvary Church in Maumee, and he recently was a worship leader at Intersection Church in Oregon, Ohio.
"I love playing music, but I also really enjoy writing songs," he said.
Holloway decided to record the disc after meeting Glenn Scott, who used to be a manager for the Beach Boys for more than 20 years.
"We met here in Toledo at church, and he graciously opened up his studio for me to record this album. I regard it as truly a blessing," Holloway said.
Other individuals who performed on "No More Delay" are Brandon Michael (spoken word poet), Evan Gilligan (spoken word poet), Jared Robison (guitar), Reagan Patterson (vocals) and UToledo student Kayla McCraney (vocals). The album was produced by Glenn and September Scott.
Holloway's gratitude is evident on the disc, especially in the song, "Everything."
"'Everything' is a reminder to me," he said, singing the lyrics, "I don't have the right to complain all the time/ I don't have the right to a negative mind/ I don't/ I don't have the right, even if I think I might/ Because you gave me everything/ You gave me a song to sing."
He smiled and said, "I remember how good life is and how wonderful God is in my life. And I remember, I try not to complain because I've been given so much.
"I want to encourage my listeners to see God's goodness in their lives as well," Holloway added. "It is one of my goals to link my passion with my purpose and connect others, as this is the true educational experience."
The native of Toledo is a second generation Rocket; his parents, Tyrone and Delores Holloway, are both graduates of the University. Holloway received a bachelor of arts degree in Spanish and a bachelor of education degree from UToledo in 2005. He taught Spanish at area schools and graduated from the University in 2014 with a master's degree in English as a second language.
Last year, Holloway published a book, "God Wants You to Smile Today: 25 Epiphanies of God's Goodness — Secrets to Living With Radical Peace, Joy and Hope." And in 2017, he was honored with the 20 Under 40 Leadership Award, which recognizes Toledo community members 39 or younger who demonstrate exceptional leadership qualities.
For more information on the disc, contact Holloway at jeremy.holloway@rockets.utoledo.edu.