Glacity Theatre Collective to present world premiere of 'Wilkes'
---
A U.S. citizen is accused of a heinous crime, but rather than receiving a trial by jury as constitutionally mandated, he is condemned to death by a military tribunal.
No, it's not 2001 in the aftermath of 9/11; it's 1865, and the accused is the man who helped John Wilkes Booth escape after his assassination of the president of the United States.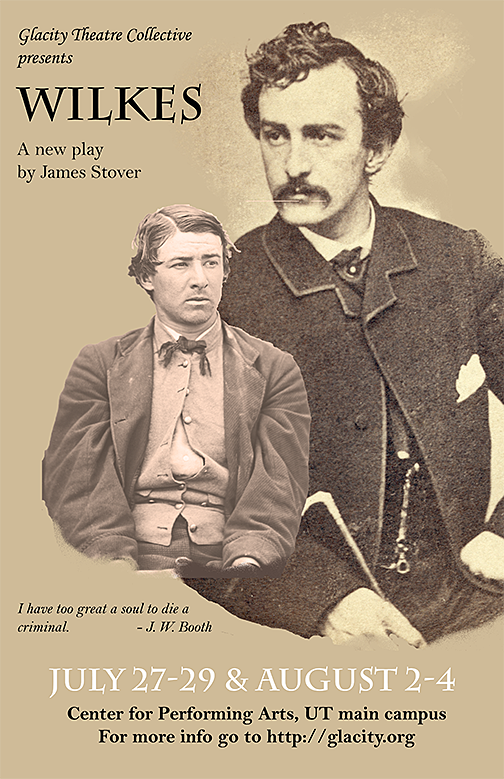 "Wilkes," a fast-paced contemporary play to be premiered by the Glacity Theatre Collective, tells the story of the planning and assassination of Abraham Lincoln, as well as the ensuing manhunt after Booth escaped.
The story is told from the perspective of Davey Herold, who was a close friend of Booth and a co-conspirator in the assassination plot. Following his capture with the injured Booth after 12 days on the run, Herold was tried by military commission as a domestic terrorist rather than in a court of law, a denial of his rights as a U.S. citizen.
"The play is an exploration of the origins of a continuing legal issue in our country — can citizens be defined as 'terrorists' and therefore denied their right to a trial by their peers? Our country has long grappled with where to draw the line between criminal behavior and terrorism — as Davey Herold's story vividly illustrates," playwright James Stover said.
He explained that though laws were created following the execution of the Lincoln co-conspirators so that such a thing would never happen again, in 2001, as part of the Patriot Act, these laws were superseded.
Featuring a cast of three, the 70-minute play is filled with action, suspense and a history lesson relevant today. Daniel Schweikert plays John Wilkes Booth, Jackson Howard is Davey Herold, and Bryan Harkins, a UT theatre student, is Frederick Stone.
The design team includes James S. Hill, UT professor emeritus of theatre; Kelly McBane, UT lecturer in theatre and film; Stephen Sakowski, UT assistant professor of theatre and film; and Kevin Upham, UT theatre student.
Stover, who was a visiting assistant professor in the UT Theatre and Film Departmetn in 2016 and 2017, is directing the production, which will be stage-managed by Tori McBean.
"Wilkes" will run Friday through Sunday, July 27-29, and Thursday through Saturday, Aug. 2-4, in the Center for Performing Arts Center Theatre on UT's Main Campus. All performances will be at 8 p.m. except Sunday, July 29, which will be at 2 p.m. Doors will open one half hour prior to curtain.
Tickets are $15 at the door or in advance online at here. Student tickets are $10 with a valid ID and are available only at the door.
For more information, go to glacity.org.