Five Rocket tennis players named scholar-athletes
---
Five Toledo men's tennis players were named Scholar-Athletes by the Intercollegiate Tennis Association.
Additionally, the men's tennis program was named an All-Academic team by the association.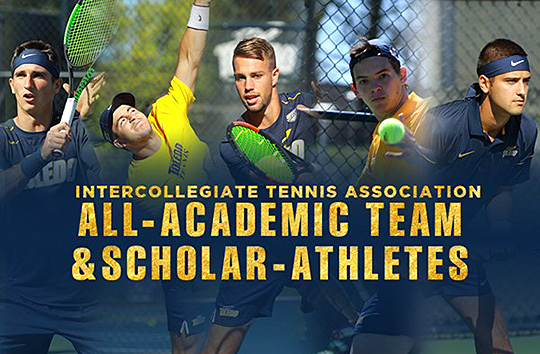 Vincent Anzalone, Nikola Arsic, Reid Teatsorth, Luka Vitosevic and Danilo Vukotic earned the honor for Toledo and join a total of 4,328 scholar-athletes that span all five divisions of collegiate tennis.
"The guys all did a great job academically this past year," Head Coach Al Wermer said. "This is another honor for our program that shows how much effort our student-athletes put forth."
Student-athletes awarded the Scholar-Athlete honor needed to meet the Intercollegiate Tennis Association's criteria, which included being a varsity letterwinner, having a grade-point average of at least 3.50 (on a 4.00 scale) for the current academic year, and being enrolled at their current school for at least two semesters (including freshman through senior year).
For programs to earn the All-Academic honor, the team needed a cumulative team grade-point average of 3.20 or above (on a 4.00 scale).