Men's Basketball Places MAC-High Four Honorees in National Honors Court
---
University of Toledo men's basketball players James Gordon IV, Luke Knapke, Spencer Littleson and Matt Schaffer have been named to the 2018-19 National Association of Basketball Coaches Honors Court.
To be eligible, a student-athlete has to be a member of the varsity squad with junior or senior status and hold a cumulative 3.2 GPA or higher at the conclusion of the academic year.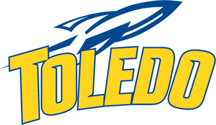 Knapke and Gordon each earned their bachelor's degrees this past spring with grade-point averages of 3.409 and 3.208, respectively. Littleson possesses a 3.455 GPA, while Schaffer holds a 3.417 mark.
Toledo was one of three Mid-American Conference programs recognized by the National Association of Basketball Coaches Honors Court, joining Central Michigan and Western Michigan. The Rockets led the way with four representatives with the Broncos ranking second with three and the Chippewas third with two.
The National Association of Basketball Coaches also honored the Toledo men's basketball program recently with the Team Academic Excellence Award, an honor for programs that post a cumulative grade-point average of 3.0 or better for an entire academic year.
The Rockets have received the award in four of the last six seasons and were one of two Mid-American Conference schools to be honored this year. Toledo also was one of 40 NCAA Division I-affiliated programs to notch a 3.0 GPA or higher.