Teacher Supply Pantry in Need of Donations to Assist Area Schools
---
With the school year underway for local children, The University of Toledo is again leading efforts through the Teacher Supply Pantry program to provide teachers at Old Orchard Elementary School and Marshall STEMM Academy with supplies for their students.
Because of the financial limitations for some area schools, a significant number of teachers pay for their students' school supplies, said "said Taylor Yarborough, Marketing, Communication and Recruitment Specialist for the Judith Herb College of Education who is heading the project.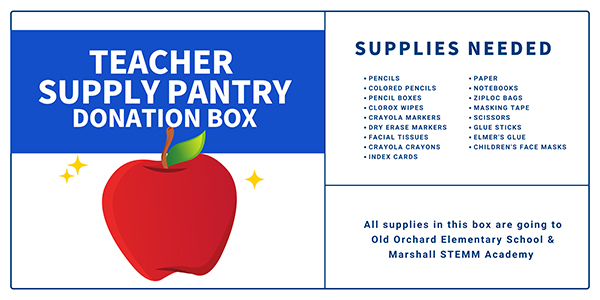 The Teacher Supply Pantry assists those teachers and their students who may have financial barriers to buy school supplies.
"The teacher pantry provides needed school supplies for the young learners," said Dr. Raymond H. Witte, dean of the Judith Herb College of Education. "Having essential school materials sets each student off on a positive academic trajectory, and their smiles are evidence of that important start."
The pantry is being restocked and is scheduled to open to the two schools by mid-to-late September.
A Judith Herb College of Education alumni affiliate has donated $750 to the Teacher Pantry, but more donations are needed.
"We are always looking for donations, either monetary or physical supply donations," Yarborough said. "We are working year-round to donate supplies to each of the schools so it's very important that we keep this campaign going year-round."
There are a total of five supply drop-off sites on Main Campus. The drop-off locations and a list of items that are needed are posted on the Teacher Supply Pantry website.
For those looking to provide a monetary donation to Teacher Pantry, please email teachersupplypantry@utoledo.edu.
"Anything that we can do to help impact our community is a success in my eyes," Yarborough added. "Due to the COVID-19 pandemic a lot of families have been struggling financially, so it's great to be able to help the children and teachers in any way that we can."