Rockets to team with Huntington Bank in support of 1Matters
---
A new partnership between Huntington Bank and The University of Toledo will help house homeless veterans. For every extra point scored by the Rockets during the 2017 football season, Huntington will donate $100 to 1Matters to support its Veterans Matter program.
1Matters is a Toledo-based nonprofit sparked and supported by singer John Mellencamp that creates and funds initiatives to move people to financial and domestic autonomy. Veterans Matter is the organization's national program designed to help homeless veterans and their families recapture their lives and return to domestic autonomy. To date, Veterans Matter has housed more than 1,600 veterans in 17 states.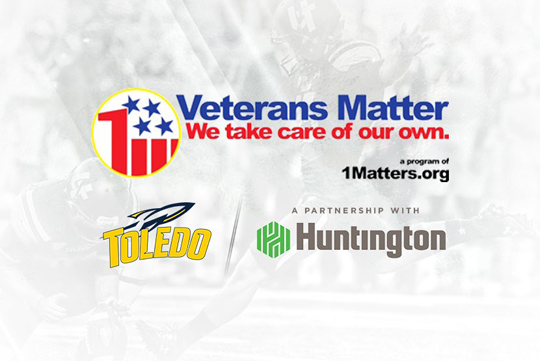 "This is an exciting partnership that will benefit homeless veterans in our community and region," said Huntington Regional President Sharon Speyer, who is a member of the UT Board of Trustees. "The importance of an extra point, where one point can matter in the outcome of a tightly fought game, will now have a significant impact on the life of someone who served our country."
"Our mission is simple: house as many homeless veterans as we can, as fast as we can, to provide the fresh start," said Veterans Matter founder Ken Leslie. "With this high-powered Rocket offense, and the support of Huntington, we can impact as many as 10 more homeless veterans this season. One point really does matter."
The Rockets were selected as the pre-season favorite to win the Mid-American Conference by media covering the league. The team returns one of the nation's most explosive offenses, led by senior quarterback Logan Woodside. Toledo averaged 38.0 points per game and led the MAC in total offense with a school-record 517.8 yards per game in 2016. Last season, Toledo converted 61 extra points.
"We are very pleased to be teaming with Huntington Bank in support of such a great cause," Toledo Head Coach Jason Candle said. "It's a privilege to participate in something that helps many of the veterans who have served our country."
The Rockets open their season at home vs. Elon Thursday, Aug. 31, at 7 p.m. in the Glass Bowl.
For ticket information, go to utrockets.com or call 419.530.GOLD (4653).