Give a little bit: Sign up for blood drive Sept. 4-5
---
About an hour — that's how long it takes to donate blood.
"Every two seconds, someone in the U.S. needs blood," Angie O'Brien, account representative with the American Red Cross, said.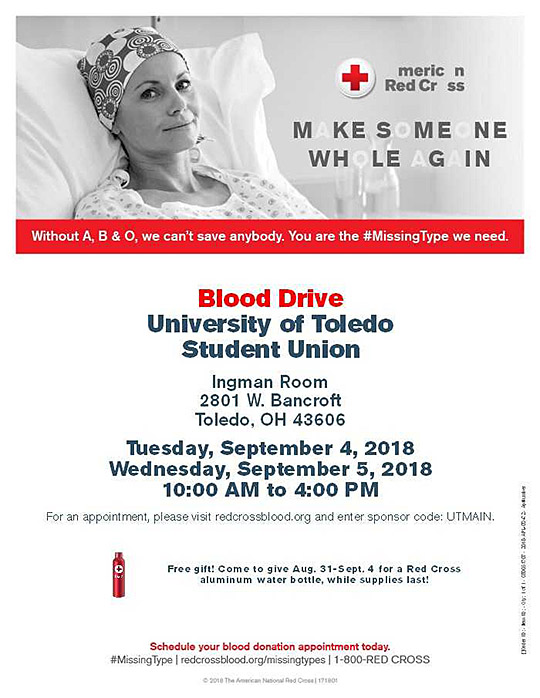 "We are still facing a blood emergency. Blood donations are being distributed to hospitals faster than donations are coming in, and more donations are needed now — especially type O — to replenish blood supply."
Donations at high school and college blood drives account for as much as 20 percent of the donations during the school year, O'Brien said.
"We need the support of the UT campus community to help save lives," she said.
The American Red Cross will hold a blood drive Tuesday and Wednesday, Sept. 4-5, from 10 a.m. to 4 p.m. in the Thompson Student Union Ingman Room.
Donors are encouraged to schedule an appointment by visiting redcrossblood.org and entering the sponsor code UTMAIN, or by calling 1.800.RED.CROSS (733.2767). Save time by going to the blood app or redcrossblood.org\rapidpass. This allows donors to answer questions prior to donation; it must be completed the day of the drive.
Walk-in donors also are welcome.
"Our goal is to collect over 100 pints of blood during the two day period," O'Brien said. "As a UT grad, I know the students, faculty and staff will roll up their sleeves to help."
She offered tips for donors: Eat iron-enriched food, start drinking water prior to the day of the drive, and get good rest.
Blood donors must bring a photo ID or Red Cross donor card to the drive.
To learn about eligibility requirements, click here.
Those who are not eligible to donate can volunteer time to help run the drive and recruit others who are able to donate.
"One person, one donation makes a difference," O'Brien said. "One pint of blood could save the lives of three people. Help us make a difference."