Anticipation builds: Rockets ready to start season
---
Expectations and excitement are high for The University of Toledo football team.
At media day this summer, the Rockets were picked to win the Mid-American Conference's West Division and the 2015 Marathon MAC Championship Game.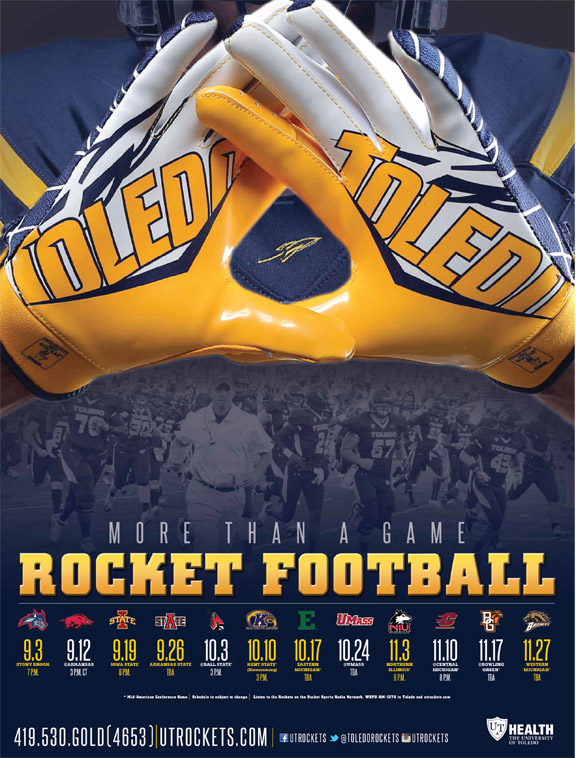 The team and star running back Kareem Hunt were featured in the recent College Football Preview edition of Sports Illustrated.

 Picked to win the MAC, the Rockets are named one of the five "teams that could get the Group of Five's 'New Year's Six' bowl bid."
And at least four games will be carried on national television. The Rockets' home game vs. Iowa State of the Big 12 Saturday, Sept. 19, will be broadcast on ESPNews at 8 p.m., while the home contest vs. Northern Illinois Tuesday, Nov. 3, will be on ESPN2 at 8 p.m. Road games at Central Michigan Tuesday, Nov. 10, at 8 p.m. and Bowling Green Tuesday, Nov. 17, time to be announced will be on either ESPN2 or ESPNU.
"There are great challenges ahead of us," Toledo Head Football Coach Matt Campbell said. "We have a lot of good football players coming back and also a lot of players who have the potential to be very good. If we continue on our current learning curve, we could have another very successful season. That's what has me so excited about this season."
Campbell welcomes back 46 letter winners and 15 starters from last year's team that went 9-4 overall, 7-1 in conference play. The Rockets shared the West Division title and chalked up an impressive 63-44 win over Arkansas State in the GoDaddy Bowl.
The Toledo offense will be paced by junior running back Hunt, who rushed for 1,631 yards and 16 touchdowns in 10 games last season. Wide receivers Corey Jones, with 842 yards and five touchdowns, and Alonzo Russell, with 770 yards receiving and eight touchdowns, provide the Rockets with additional threats at the skill positions.
"Expectations are on Kareem. When you go from the hunter to hunted, it puts a different dynamic on where you are going. Kareem steps into that fray now. Everyone will know who he is," Campbell said. "But I think Kareem's best is still to come.
"What I like is that it is important for Kareem to be successful. He takes this very seriously," Campbell said. "He's been surrounded by leaders in the past. Now he has to be the leader. He has leadership qualities, so I look forward to seeing him accept that role. A lot more is expected of him, and he understands that."
Defensively, Toledo returns eight starters, including defensive end Trent Voss, who had 77 tackles and 15 tackles for loss in 2014, and a pair of All-MAC tackles, senior Orion Jones and junior Treyvon Hester.
The Toledo Rockets will open the season in the Glass Bowl vs. Stony Brook Thursday, Sept. 3, at 7 p.m. and then travel to Southeastern Conference opponent Arkansas for a contest Saturday, Sept. 12, at 4 p.m.
Season tickets, as well as tickets for the UT-Stony Brook contest, are on sale at the UT Athletic Ticket Office, online at http://utole.do/football2015 or at 419.530.4653. Faculty and staff can buy tickets half off with ID, and students are admitted free with ID.