Law faculty recognized for scholarly impact
---
The University of Toledo College of Law recently ranked 62nd of the nation's 205 law schools, as measured by citations to faculty articles, in a study on faculty productivity completed by Professor Gregory Sisk and several of his colleagues at the University of St. Thomas School of Law.
The College of Law appeared between the University of Missouri and DePaul University on the recently released list. Of the 14 law schools in Ohio and Michigan, only The University of Toledo, the University of Michigan, Ohio State University and Case Western Reserve University were among the top third of law schools in terms of scholarly impact, according to the Sisk ranking.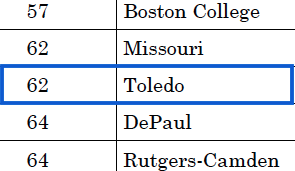 "I was excited to come to UT in part because of our outstanding faculty," said D. Benjamin Barros, dean of the College of Law. "This study reinforces our faculty's strength and shows that we are producing scholarship that has a real impact."
UT law faculty scholarship has been cited in recent years in multiple U.S. Supreme Court briefs and one Supreme Court opinion, and several federal trial and appellate court decisions. Faculty members have penned Supreme Court amicus briefs and testified in state legislative and judicial proceedings and in U.S. Congressional hearings.
Faculty members are regularly sought for analysis and opinions by the media. Many faculty members are interviewed for local television and newspaper articles, and several comment frequently in national publications such as The New York Times and USA Today. Additionally, faculty members edit two top law professor blogs.
"The faculty at the College of Law has worked to build and maintain a fertile scholarly environment," said Eric Chaffee, associate dean for faculty research and development. "We are excited about this study because it demonstrates that we are making an impact within the legal academy based upon the breadth and depth of knowledge and ideas of those teaching at the school."
The UT law faculty's commitment to scholarship enriches the student experience.
"The quality of faculty scholarship at our school is directly related to the first-rate instruction students get in our classrooms," said Geoffrey Rapp, associate dean for academic affairs and the Harold A. Anderson Professor of Law and Values.
"Should a student care about how many citations a professor gets? No. But students should care that professors have a broad and deep understanding of their fields, and it's that understanding that supports our high-impact research," Rapp said.
The Sisk study applied methodology to evaluate faculty productivity developed by Brian Leiter, professor of law at the University of Chicago Law School, and can be downloaded free of charge here.
This is the second major study to highlight the prominence of UT law faculty scholarship in recent years. In a study conducted by Roger Williams University in 2013, the college's faculty ranked 90th in the country and fourth among Ohio law schools as measured by placements in top law reviews.