UT Equestrian Team to bring horses to campus Sept. 15 to raise funds for hurricane relief
---
To help those affect by hurricanes in Florida and Texas, The University of Toledo Equestrian Team will bring four horses for rides and photos to Main Campus Friday, Sept. 15.
Called Horses for Humanity, the event will take place from 3 to 7:30 p.m. in the grassy area south of Memorial Field House.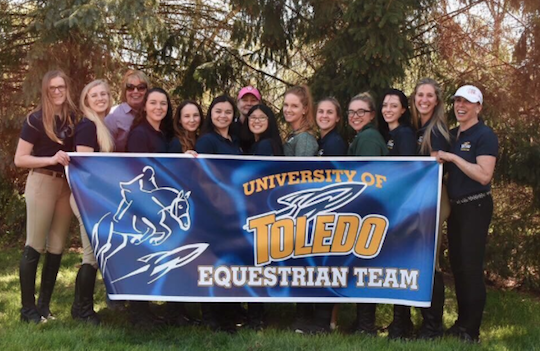 "We want to help as much as we can. We feel that bringing horses out will bring joy to people here, and the money will benefit the hurricane relief effort," said Andrea Woo, founder and co-president of the team.
The horses, some of which serve as therapy horses, will give five-minute rides for $3 to $5, which will go to the American Red Cross, or donations of two canned goods for the UT Student Food Pantry.
Woo encouraged all who are interested to stop by regardless of skill level.
"Members of the team will be on hand to assist in riding, and you can always pet or feed the horses if you don't feel comfortable riding them," she said.
For more information on the UT Equestrian Team, contact utihsa16@gmail.com or click here.