New exhibit will showcase talents of internationally known comic strip artist
---
The lifelong work of comic strip artist and University of Toledo alumnus Peter Hoffman is celebrated by the Ward M. Canaday Center for Special Collections in the new exhibition titled "Pete Hoffman: A Comic Journey."
The exhibit displays selections of Hoffman's cartoon art, highlighting his long-running continuity strip, "Jeff Cobb," which ran in newspapers worldwide between 1954 and 1978, and featured the adventures of an investigative journalist.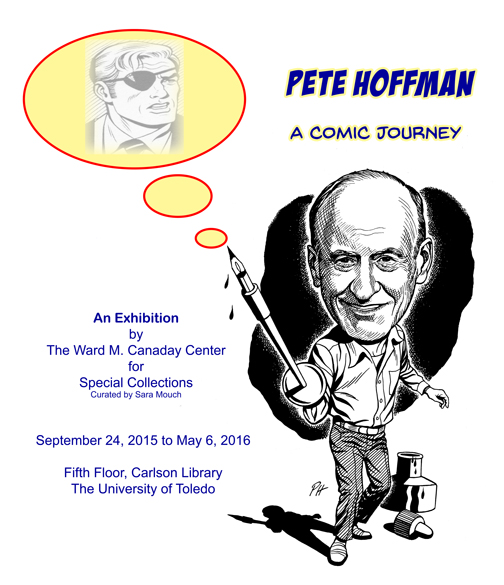 The free, public exhibit will open Thursday, Sept. 24, and run through Friday, May 6, in the art gallery on the fifth floor of Carlson Library.
Hoffman was born in Toledo in 1919. As a student at Warren Elementary, he started drawing, initially imitating his brother, Jack. While a kindergartner, he so impressed his teacher with a sketch of cowboys, Indians and horses that she submitted it to the Toledo Times, which published it when Hoffman was 4 years old.
As a college student at UT, Hoffman worked as staff cartoonist on both The Campus Collegian and Blockhouse, but he never had formal training. Instead, he majored in advertising and business.
After graduation from UT in 1941, he worked as an advertising artist for Tiedtke's Department Store before joining the Army.
After the war, Hoffman visited the Toledo offices of Elmer Woggon and Allen Saunders, who hired him as a ghost illustrator for their popular adventure strip, "Steve Roper."
Hoffman worked, uncredited, on "Steve Roper" until 1954, when he was offered a project of his own by General Features Syndicate. It was then that "Jeff Cobb" was born.
Hoffman researched, wrote and illustrated "Jeff Cobb" six days a week, including a separate storyline on Sundays that ran for a limited time. Inspired by true events, storylines ranged from insurance fraud to drug dealing, art theft to corruption, and murder to the kidnapping of political world leaders.
By 1975, "Jeff Cobb" had appeared in more than 100 newspapers worldwide, but the continuity strip was losing popularity. The strip stopped running nationally at that time, but continued to run in international papers until 1978.
Hoffman continued to do freelance work, including for UT on the occasion of his 50th class reunion in 1991. At that time, he donated the original panels of a complete, 11-week episode of "Jeff Cobb" to the Canaday Center. The bulk of his work, including a nearly complete run of the comic strip, was donated to the center in 2013 by his family after Hoffman's death. The collection approximates more than 6,000 pieces of original artwork.
The exhibition displays a retrospective of Hoffman's artistic career. It includes a copy of the drawing that was published while he was a child, along with work he did for UT's Campus Collegian newspaper and Blockhouse yearbook. It also features some of the work he did in advertising, including ads for the iconic Toledo department store Tiedtke's.
The highlight of the exhibit are 21 original panels of Hoffman's "Jeff Cobb" strip selected from his career spanning from 1955 to 1971.
"The panels not only show Hoffman's artistic talent, but also his ability to convey intriguing story lines through his strips," said Sara Mouch, curator of the exhibition and assistant archivist in the Canaday Center.
The complete Hoffman collection is available to interested researchers in the Canaday Center.
For more information on the exhibit or to view other aspects of Hoffman's collection, contact Mouch at the Canaday Center at 419.530.5578.