Muslim Student Association's Eid dinner to be held Oct. 3
---
The Muslim Student Association will host its second annual Eid Dinner Saturday, Oct. 3.
The celebration will be held in the Student Union Auditorium at 7 p.m., with doors opening at 6:30 p.m.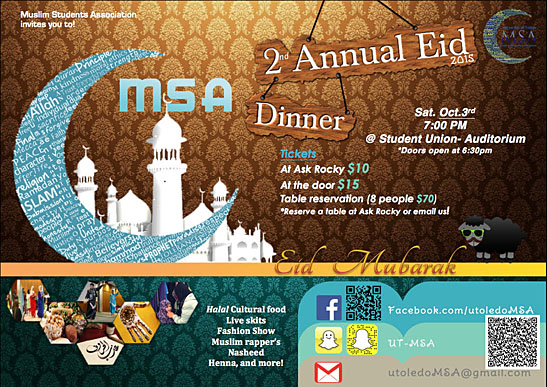 "Last year I couldn't go home to celebrate Eid, which is basically just a day of celebration, and I wanted something fun to do on campus," said Fatma Ismail, president of the Muslim Student Association. "I know a lot of other international students who couldn't go home either, and we decided to create this dinner and entertainment festival so we could celebrate on campus."
The festival will feature halal cultural food, live skits, fashion show, clothing vendors, Muslim rapper Nasheed, henna and more.
"The world is very big, and not being able to experience different languages and cultures can be really limiting," Ismail said. "It's good to experience other cultures because you really can learn a lot from other people, and it's good to branch out and see what other people and countries have to offer."
Tickets can be purchased in advance at Ask Rocky's in the Student Union for $10 or at the door for $15. Table reservations for groups of eight can be reserved and purchased for $70 at Ask Rocky's or by emailing utoledomsa@gmail.com.
"If you hear anyone say 'Eid Mubarak' on campus, just know it's a greeting similar to Merry Christmas and means 'Happy Eid,'" Ismail said.