Help give small businesses a chance at fundraising event
---
On Thursday, Oct. 8, join The University of Toledo Minority Business Development Center for "An Evening of Chance."
The fundraiser, to be held from 6 to 9 p.m. at Parkway Plaza in Maumee, will benefit the UT Minority Business Development Center. The center houses more than 10 different businesses owned and operated by minorities and helps provide training, mentoring, office space and strategic development.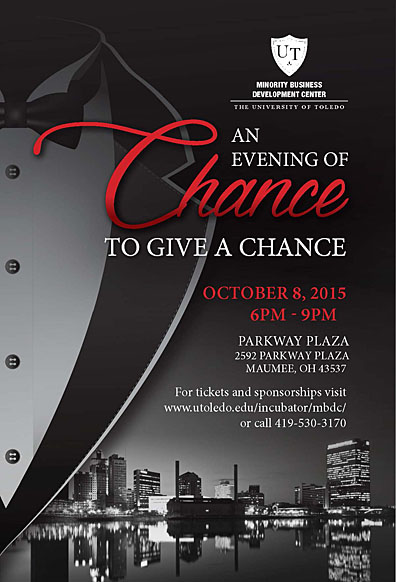 "This event allows us to support our businesses and students, but it's also an opportunity for the community to learn about how we play a part in the greater economic development of the region," said Dr. Shanda Gore, UT chief diversity officer and associate vice president for equity, diversity and community engagement. "We're not just supporting small, minority-owned businesses, we are causing a larger ripple effect that impacts generations."
The evening will feature a photobooth and games like roulette, blackjack and Texas Hold 'em. Between games, guests can bid on items in the silent auction and eat and drink from several food stations and a cash bar.
The event will conclude with an award ceremony for local minority business owners.
The UT Minority Business Development Center is an integral component of the UT Office of Equity, Diversity and Community Engagement. Located on the Scott Park Campus of Energy and Innovation, its mission is to foster an environment that supports early-stage minority-owned businesses via services such as office space, training, mentoring, and professional network of advisers.
"Our students also benefit from the center because they receive a great hands-on experience that helps prepare them for the real world," Gore said. "We have 100 percent placement of all students who have interned or had assistantships with us and our businesses."
To purchase tickets, which are $50, visit utoledo.edu/incubator/mbdc. Sponsors also may register through this website.
Ticket sales end Wednesday, Oct. 7. Each ticket will provide some gaming money, and additional purchases will be available.
For more information, call 419.530.3170, email mbdc@utoledo.edu, follow on Twitter at twitter.com/UTMBDC or like the center on Facebook at facebook.com/UTMBDC.